Weekend Menu Planning: Pumpkin Recipes for Soup, Chili, Stew, and Drinks
BlogHer Original Post
People love pumpkins; that became obvious a few days ago when the calendar flipped to October and pumpkin recipes galore started popping up in my feed reader. I wasn't surprised, because I've been writing on BlogHer.com since 2006, and I think my post about Cooking with Pumpkin: Unique Pumpkin Recipes is still my most-read post on the site. (If you like cooking with pumpkin, go bookmark that and then come back to see even more delicious pumpkin recipe ideas.)
Last year Denise did A Month of Pumpkins, in a series of posts about all things pumpkin, and this year she's asking you to share your pumpkin posts on the site. With all this pumpkin talk going around I thought I'd add to the pumpkin feeding frenzy by featuring pumpkin recipes all month for Weekend Menu Planning. Of course, there are endless tasty things to make with pumpkin, but let's start this week with pumpkin soup, stew, chili, and drinks made with pumpkin.
What's a Pumpkin?
First of all, did you know that in many parts of the world, all types of winter squash are called pumpkin. You can feel free to use butternut or acorn squash in pumpkin recipes, but most recipes in this series of posts use the dark-orange skinned vegetable that's traditional at Halloween. If you're starting with fresh pumpkin, be aware that sugar pumpkins used in baking are different than the Jack-O-Lantern pumpkins used for carving.
Fresh vs. Canned Pumpkin?
This is the eternal question when it comes to cooking with pumpkin, and a few food bloggers have weighed in on it. Nic at Baking Bites talks about Fresh vs. Canned Pumpkin in Baking, and she can also tell you How to Make Your Own Pumpkin Puree. Alanna at A Veggie Venture also has good tips on How to Roast a Whole Pumpkin and Ree from The Pioneer Woman Cooks has instructions for making Homemade Pumpkin Puree. No worries though if you don't have the time or the inclination to start with fresh pumpkin; canned pumpkin is perfectly acceptable.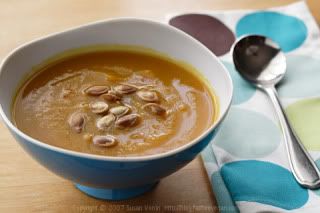 Photo of Roasted Pumpkin and Garlic Soup
from Fat Free Vegan Kitchen
There are a lot of creamy, decadent recipes for pumpkin soups, but a lighter pumpkin soup that caught my eye was this
Roasted Pumpkin and Garlic Soup
from Fat Free Vegan Kitchen. Susan says this just wouldn't be the same with canned pumpkin, and she used her leftover Halloween pumpkin to make this and garnished the soup with the roasted pumpkin seeds.
More Pumpkin Soup Ideas I'd Love to Try:
Curried Pumpkin Lentil Soup ~ from Happy Herbivore
Grilled Pumpkin and Butternut Squash Soup ~ from Macheesmo
Pumpkin Chickpea Soup from Chez Us
Pumpkin Soup with Chicken and Ginger-Braised Leeks ~ from Leite's Culinaria
Pumpkin and Black Bean Soup ~ from Gimme Some Oven
Curried Pumpkin Soup with Crab Crostini ~ from Half Baked
Pumpkin Soup with Nutmeg ~ from Nami Nami
Veronica's Pumpkin Soup ~ from Gluten Free Easily
Pumpkin Soup with Smoked Paprika ~ from Simply Recipes
Pumpkin Soup ~ from Use Real Butter

Photo of Pumpkin Chili
from Eclectic Recipes
Pumpkin chili was an idea that was completely new to me, but the
Pumpkin Chili
from Eclectic Recipes looked so good that it went right on my "recipe to try" list. Angie says she wasn't sure about this at first, but she's glad she tried it.
More Pumpkin Chili Recipes To Warm Up Your Mouth:
Chicken, Pumpkin, and Hominy Chili ~ from Not Eating Out in New York
Spicy Pumpkin Vegetarian Chili ~ from Prudence Pennywise

Photo of Pumpkin Stew in a Pumpkin
from Fab Frugal Food
Pumpkin stew is another idea that I probably wouldn't have thought of, but Donna from Fab Frugal Food says when they were small her kids would clap and cheer when she brought this
Pumpkin Stew in a Pumpkin
to the table!
More Pumpkin Stew to Make You Drool:
Curried Pumpkin and Rice ~ from Trini Gourmet
Pumpkin Stew with Harissa ~ from The Perfect Pantry
Pumpkin and Potato Curry ~ from Indian Food Rocks
Yellow Pumpkin Curry Kerala Style ~ from Edible Garden
Spicy Pumpkin and Peanut Curry ~ from Moden Beet
Pumpkin and Red Bean Curry ~ from Baking Bites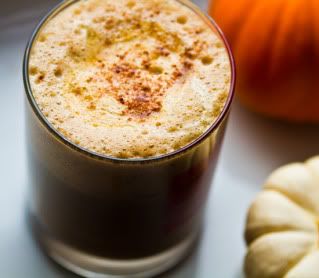 Photo of Vegan Pumpkin Spice Latte
from Happy Healthy Life
This
Vegan Pumpkin Spice Latte
made me drool when it popped up in my feed readers, and Kathy from Happy Healthy Life says she came up with this recipe when she couldn't find a non-dairy pumpkin latte option at Starbucks.
More Pumpkin-Themed Lattes, Shakes, Smoothies and Nogs:
Crockpot Pumpkin Spice Latte ~ from A Year of Slow Cooking
Homemade Vegan Pumpkin Nog ~ from Notes from the Vegan Feast Kitchen
Three Pumpkin Milkshakes ~ from A Spicy Perspective
Pumpkin Spice Latte ~ from Sugarcrafter
Pumpkin Latte ~ from Half Baked
Pumpkin Spice Mocha ~ from Baking Bites
Pumpkin Smoothie ~ from Noob Cook
Weight Watchers Pumpkin Smoothie ~ from A Veggie Venture
Pumpkin Smoothie ~ from Shrinking Sisters
Now it's your turn to play along. There are endless good ideas for pumpkin soup, chili, stew, or drinks, so if you have a recipe you think we should try, please leave your link in the comments.
(Every week on BlogHer, we spotlight five recipes with a common theme for a feature called Weekend Menu Planning, hoping one of them might make it onto the menu at your house. You can find previous recipes shared by checking the Weekend Menu Planning Archives or clicking the tag Weekend Menu Planning.)
Kalyn Denny also blogs at Kalyn's Kitchen where she's focused on creating low-glycemic recipes using fresh ingredients. Kalyn put pumpkin chili on her "to-try" list, but until she tries that her favorite pumpkin recipe has to be the Low-Sugar Pumpkin Cheesecake Pie she made last year.
Trending Now
Recent Posts
by Kalyn Denny
Mom has a lot to check off her list this Summer, and Kellogg's cereal can help her get it done. How will you make the most of your Summer? Check out our blog posts as we share with you inspirational ideas for celebrating the moments of magic that will happen during this activity-filled time of year! PLUS enter for a chance to win as $100 Walmart gift card!
Read more
Green & Black's Organic Chocolate Reviews & Sweepstakes
We placed Green & Black's Organic Chocolate to the test! Check out these delicious chocolate recipes and recreate them using exceptional, fairtrade ingredients. Plus get a chance to win $100 cash equivalent and a chocolate prize pack.