Weekend Menu Planning: Savory Pumpkin Recipes for Breakfast, Lunch, or Dinner
BlogHer Original Post
It's time for more pumpkin recipes! Last week I gave you ideas for Pumpkin Soup, Chili, Stew and Drinks and promised I'd be back with new ideas for pumpkins each week in October. This time I've put together an amazing collection of recipes using pumpkin in everything from breads, muffins, spreads, and pancakes to pumpkin casseroles and pumpkin pasta. I know there'll be at least a few pumpkin ideas here you've never heard of, so grab a can of pumpkin and let's get cooking.

Photo of Pumpkin, Pine Nut, and Pancetta Savoury Torte
from Ms. Adventures in Italy
Whether you serve it for breakfast, lunch, or dinner, I bet you'll get good reviews from this
Pumpkin, Pine Nut, and Pancetta Savoury Torte
from Ms. Adventures in Italy.
More Savory Breads, Scones and Baked Goods with Pumpkin:
Pumpkin, Feta, and Chive Scones ~ from Kitchenist
Pumpkin Cornbread ~ from Sugarcrafter
Pumpkin Cornbread Muffins ~ from Creatively Domestic
Savory Squash Pie ~ from Cheap Healthy Good
Pumpkin Fritters ~ from Half Baked
Savory Pumpkin and Sage Gougères ~ from Cookin' Canuck
Pumpkin and Feta Muffins ~ from 101 Cookbooks
Pumpkin Scones ~ from Nami Nami

Photo of Pumpkin Butter
from The Pioneer Woman Cooks
If you're familiar with apple butter, then you'll know that pumpkin butter is a spread to serve on bread, and this
Pumpkin Butter
from The Pioneer Woman Cooks looks delicious on toast.
More Dips and Spreads with Pumpkin Flavors:
Pumpkin Spice Cashew Cheese Dip from Healthy Happy Life
Pumpkin Hummus ~ from Eclectic Recipes
Pumpkin Cream Cheese Spread ~ from Budget Bytes
Pumpkin Dip ~ from Closet Cooking

Photo of Whole Wheat Pumpkin Pancakes
from Pinch My Salt
These
Whole Wheat Pumpkin Pancakes
from Pinch My Salt have just the slightest touch of sugar and lots of flavor from cinnamon, nutmeg, and ginger.
More Breakfast Dishes with Pumpkin:
Pumpkin Pancakes ~ from Buns in My Oven
Pumpkin Pie French Toast ~ from Baking Bites
Pumpkin Spice Pancakes with Pumpkin Butter ~ from SkinnyTaste
Pumpkin Granola ~ from Two Peas and Their Pod
Gluten-Free Pumpkin Waffles ~ from Fat Free Vegan Kitchen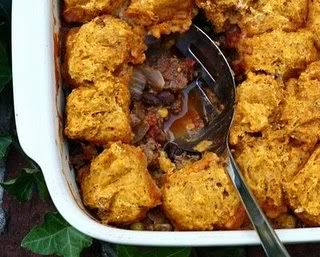 Photo of Supper Casserole with Pumpkin and Green Chile Cornbread
from A Veggie Venture
There's a double dose of pumpkin flavor in this
Supper Casserole with Pumpkin and Green Chile Cornbread
from A Veggie Venture. Check out Alanna's recipe to see how she doubles the pumpkin.
More Ideas for Casseroles or Baked Dishes with Pumpkin:
Pumpkin and Black Bean Casserole ~ from Fat Free Vegan Kitchen
Pumpkin Crumble ~ from Bella Baita View
Pumpkin Gratin ~ from Thyme for Cooking

Photo of Roasted Pumpkin Pasta Sauce
from Mele Cotte
Finally, you might not think of pumpkin as an ingredient for pasta sauce, but I bet you'll agree that this
Roasted Pumpkin Pasta Sauce
from Mele Cotte looks delicious.
More Tasty Pasta or Main Dishes with Pumpkin:
Farfalle with Roasted Butternut Squash, Sage, and Creamy Pumpkin Sauce ~ from Sugarcrafter
Pumpkin Sage Tacos with Fresh Salsa Verde ~ from The Yum Diary
Pumpkin, Duck Confit, and Feta Panini ~ from Panini Happy
Pumpkin Parmesan Pasta Sauce ~ from Fab Frugal Food
Penne-Wise Pumpkin Pasta ~ from Taste and Tell
Roasted Pumpkin and Collard Greens Pasta ~ from Delementals
Can't get enough pumpkin? Here are more Pumpkin Recipe Collections from BlogHer:
Cooking with Pumpkins: Unique Pumpkin Recipes
Pumpkin Recipes for Soup, Chili, Stew, and Drinks
The Savory and the Soupy Pumpkin
What's your favorite thing to make with pumpkins? If you have a pumpkin recipe you'd like to share, please leave the recipe or link in the comments, or better yet, share your pumpkin post on BlogHer.com. And check back next week when Weekend Menu Planning will focus on pumpkin cookies, cakes, sweet breads, and muffins!
(Every week on BlogHer, we spotlight five recipes with a common theme for a feature called Weekend Menu Planning, hoping one of them might make it onto the menu at your house. You can find previous recipes shared by checking the Weekend Menu Planning Archives or clicking the tag Weekend Menu Planning.)
Kalyn Denny also blogs at Kalyn's Kitchen where she's focused on creating low-glycemic recipes using fresh ingredients. Kalyn doesn't cook with pumpkin that often, but last week's BlogHer post inspired her to make Crockpot Pumpkin Chili with Ground Beef, Black Beans, and Kidney Beans.
Trending Now
Recent Posts
by Kalyn Denny
Mom has a lot to check off her list this Summer, and Kellogg's cereal can help her get it done. How will you make the most of your Summer? Check out our blog posts as we share with you inspirational ideas for celebrating the moments of magic that will happen during this activity-filled time of year! PLUS enter for a chance to win as $100 Walmart gift card!
Read more
Kelloggs Walmart Shoppers
Bloggers show us how they use cereal to create fun, summer memories. Read their posts and enter for a chance to win $100!