Weekend Menu Planning: Something on the Grill for Memorial Day Weekend
Since it's Memorial Day weekend and that means the start of grilling season in lots of families, it seems only fitting that I give you some new or improved ideas for things to cook on the grill for this edition of Weekend Menu Planning. Whether you're grilling with charcoal, gas, an electric grill, or using a stove-top grill pan, here are some grilling menu suggestions that will make your guests drool.

Photo of Burgers on the Grill from Kitchen Parade.
Let's start with burgers, one of the first thing many people think of when grilling season comes around. From Kitchen Parade, how about
Ten Tips for Better Burgers
. My favorite is Tip #2, so simple it makes me wonder why I never thought of it.

Photo of Grilled Chicken from Michael Ruhlman, taken by Donna Ruhlman.
Grilled chicken is another classic dish that signifies summer for many people, including chef Michael Ruhlman, who says grilled chicken like the one above is one of his staple meals. Michael bastes the chicken with
Rip's Grilled Chicken Baste
, a combination that sounds like it would be a winner on chicken.

Photo of Grilled Brined Pork Chops from What We're Eating.
At What We're Eating, Tyler and Amanda are ready for summer, as evidenced by the fact that they're already regularly cooking grilled meats and veggies. Pictured above is
Grilled Brined Pork Chops
, a great way to kick start summer at your house.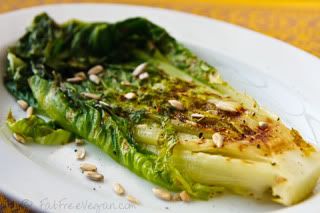 Photo of Ridiculously Easy Grilled Romaine Salad from Fat Free Vegan Kitchen.
If you're not a meat-eater, there are still plenty of grilling options, and personally I think nearly every kind of vegetable tastes wonderful cooked on the grill. I'm always looking for new grilled vegetable ideas to try, so I'm intrigued by this
Ridiculously Easy Grilled Romaine Salad
from Fat Free Vegan Kitchen.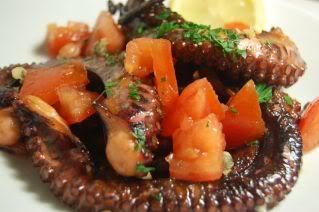 Photo of Grilled Octopus with Lemon Garlic Olive Oil from Spork or Foon.
Finally, if you'd like something *really* unusual to throw on the grill, how about
Grilled Octopus with Lemon Garlic Olive Oil and Fried Capers
, which I found at Spork and Foon. The photos of the raw octopus will show you why Teanna ran screaming around the apartment before she got this ready to cook, but I've eaten grilled octopus in a restaurant and found it to be delicious!
Any grilling plans at your house for Memorial Day Weekend? If so, what's your best idea for something fabulous to throw on the grill. If you have a great grilling recipe or link, please do share in the comments!
(Every Thursday night on BlogHer, we spotlight five recipes with a common theme for a feature called Weekend Menu Planning, hoping one of them might make it onto the menu at your house. You can find previous recipes shared by clicking the tag Weekend Menu Planning.)
Kalyn Denny also writes about food at Kalyn's Kitchen. Kalyn is mourning the fact that her gas grill is currently in the garage due to house renovations, but someday the house will be finished and she can resume cooking Juicy Grilled Chicken Breasts!
COMMENTS
Recent Posts
by Kalyn Denny
Most Popular
We asked our bloggers to craft some recipes from the different Success® Rice flavors and tell us about it. Check out their ideas and you could win a $100 Visa gift card!
Read more
Lean Pockets have no artificial flavors, a good source of protein & have 100% real cheese. Read our bloggers posts where they will tell you their guilt free experiences with Lean Pockets. Plus get a chance to win $100!
Read more