Weekend Menu Planning: Something Sweet for Easter or Passover
BlogHer Original Post
If your family celebrates Easter or Passover, chances are you may have started planning your menu for the holiday feast. Most people have traditional foods they eat for this type of holiday celebration, but new ideas for something sweet to end the meal are always fun. I noticed a lot of my favorite food bloggers have been spotlighting sweet treats for Easter or Passover, so maybe one of these ideas will be just what you need to round out your menu. And if you happen to have your own family favorite recipes for Easter or Passover sweets, please let us know about them in the comments.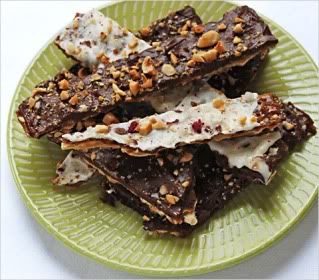 Photo of Matzoh Crack from Blue Kitchen
Let's start with the Passover treat that Terry at Blue Kitchen calls Matzoh Crack. Lots of people make a variation of this matzoh and chocolate snack, but this version is extra special, with white chocolate and spicy rose sugar.

Photo of Italian Lemon Egg Biscuits from Food Blogga
For Easter, Food Blogga Susan's mom always made Italian Lemon Egg Biscuits, and one look at the photo shows you why this recipe will be a hit with kids and adults alike. Susan is dedicating the recipe she posted to her young nieces Jessica and Alexandra, and I love the way Susan's blog is helping her family pass on treasured recipes like this one.

Photo of Coconut Macaroons from Diet, Dessert, and Dogs
Macaroons are another sweet that's often made for Passover, but the Coconut Macaroons above from Diet, Dessert, and Dogs are grain-free, gluten-free, egg-free, sugar-free and dairy-free -- as well as being Passover and anti-candida-diet friendly.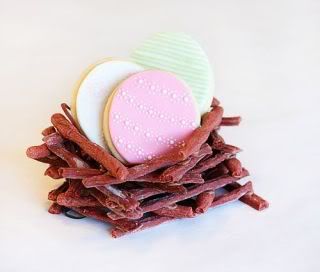 Photo of 100% Edible Easter Bird's Nest from I Am Baker
Here's another fun Easter cookie idea at I Am Baker, who got very creative with her 100% Edible Easter Bird's Nest. Both the "sticks" for the nest and the "eggs" are made from sugar cookie dough, and this was a hit with the kids.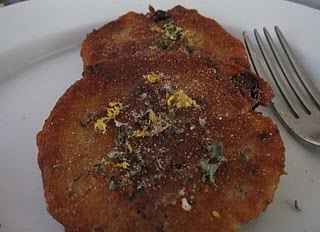 Photo of Sweet Matzoh Fritters from San Diego FoodStuff
Finally, from San Diego Foodstuff comes another Passover treat called Sweet Matzoh Fritters. Besides matzoh, the fritters have lots of flavor from almonds, raisins, cinnamon, lemon juice, and sugar.
More from BlogHer for Easter and Passover:
(Every week on BlogHer, we spotlight five recipes with a common theme for a feature called Weekend Menu Planning, hoping one of them might make it onto the menu at your house. You can find previous recipes shared by clicking the tag Weekend Menu Planning.)
Kalyn Denny also blogs at Kalyn's Kitchen where she's focused on creating low-glycemic recipes using fresh ingredients. Kalyn rarely makes any sweets for Easter, but she does have a lot of good ideas for How to Use Leftover Hard-boiled Eggs!
Trending Now
More Like This
Recent Posts
by Kalyn Denny
Sparkling ICE is a bold flavored sparkling water that truly delivers on taste and contains just the right amount of fizz. Read our bloggers' posts and get more details on how you can enter the Flavor Face Off plus find out more about the delicious flavors that Sparkling ICE has to offer.
Read more
Louisiana Seafood Reviews & Giveaway
With a little help from Louisiana Seafood, bloggers share their favorite Louisiana Seafood recipes. Read their posts and enter for a chance to win $100!