Weekend Menu Planning: Stew in the CrockPot for Cold Winter Nights
BlogHer Original Post
Depending on exactly where you live, you may have cringed just a little at that word *winter* in the headline of this post. Like it or not, most of us in the northern hemisphere have several months of cold days ahead before it's grilling and salads time. This kind of weather is when I especially like to use my CrockPot for a hot dinner that cooks all day while I'm busy doing something else.
I'm always surprised when someone tells me they have a slow cooker but rarely use it. Once you master the basics of CrockPot cooking like using less liquid, browning meat first, cutting the food in same-size pieces, and adding extra dried spices and herbs, you can make a huge variety of tasty foods in a CrockPot. Here are some ideas for CrockPot stews that you really should put on the menu at least once while it's still cold outside.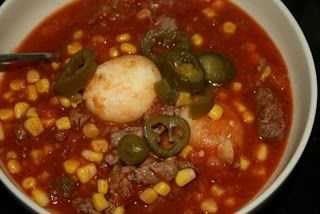 Photo of CrockPot Cowboy Stew
from A Year of Slow Cooking
Let's start with
CrockPot Cowboy Stew
from A Year of Slow Cooking. This ground beef stew has a Southwestern twist from green chiles, beans, corn, and Ro-Tel spicy tomatoes.

Photo of Mushroom and Barley Stew
from Macheesmo.
For a vegetarian CrockPot stew, I love the sound of this
Mushroom and Barley Stew
from Macheesmo. Nick shows how to prep this the night before if you want to throw it in the CrockPot to cook while you're at work.

Photo of Slow Cooker Chicken Vindaloo
from The Perfect Pantry
You might not have thought of using the slow cooker for Indian food, but I think this
Slow Cooker Chicken Vindaloo
from The Perfect Pantry would be great to come home to. Indian food can seem complicated, but Lydia breaks the recipe down into three steps.

Photo of CrockPot Gingered Chickpea and Spicy Tomato Stew
from Cookin' Canuck
Another vegetarian stew is the
Crockpot Gingered Chickpea and Spicy Tomato Stew
from Cookin' Canuck. The green you see in the photo is spinach, stirred in at the last minute for extra flavor and nutrients.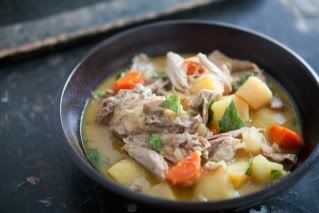 Photo of Slow-Cooked Turkey with Mustard Sauce
from Simply Recipes
Finally, at Simply Recipes Elise says she's been experimenting with the slow cooker, and this
Slow-Cooked Turkey with Mustard Sauce
definitely sounds like a success.
More Crockpot Stews that Sound Tasty:
Crockpot Beef Stew ~ from The Confused Homemaker
Crockpot Guiness Beef Stew ~ from Mille Fiori Favoriti
Vegetarian Crockpot Stew ~ from Dianasaur Dishes
Beef and Vegetable Stew with Parsley Dumplings ~ from Just Hungry
Gluten-Free Unstuffed Cabbage Rolls Stew ~ from The Whole Gang
Crockpot Eggplant and Tomato Stew with Garbanzo Beans ~ from Fat Free Vegan Kitchen
Moroccan Chicken Stew ~ from Modern Gal
CrockPot Beef Burgandy ~ from Half-Assed Kitchen
Hamburger and Veggie Slow Cooker Stew ~ from Evolving Mommy
Slow Cooker Beef and Barley Stew ~ from Cora Cooks
(Every week on BlogHer, we spotlight five recipes with a common theme for a feature called Weekend Menu Planning, hoping one of them might make it onto the menu at your house. You can find previous recipes shared by checking the Weekend Menu Planning Archives or clicking the tag Weekend Menu Planning.)
If you're a slow cooker fan, we'd love to hear in the comments about your favorite CrockPot Stew recipe.
Kalyn Denny also blogs at Kalyn's Kitchen, where she's focused on creating low-glycemic recipes using fresh ingredients. Kalyn would have a hard time choosing her favorite CrockPot stew, but CrockPot Beef Stew with Olives, Garlic, Capers, and Tomatoes would definitely be on the list.
Comments
More Like This
Recent Posts
by Kalyn Denny
Save time, money and space with the FoodSaver® Vacuum Sealing System! AND it keeps food fresh up to 5x longer! Read our bloggers' experiences with the FoodSaver® System and see why you should get one for your home. Plus get a chance to win $100 Visa gift card!
Read more
Success Rice Farms Reviews & Giveaways
Success® Rice is the ORIGINAL no mess, no measure boil-in-bag rice that cooks perfectly every time and is ready in 10 minutes. Read our bloggers' posts and see how they make hearty meals by adding Success® Rice into their favorite recipes plus get a chance to win $100.