Weekend Menu Planning: Sweet and Savory Apple Recipes for Fall
BlogHer Original Post
Maybe it's all the years I spent as an elementary school teacher, but as soon as the calendar changes to fall, I start thinking about apples. I do have fond memories of the apples kids brought to school, which always tasted a little better than the ones from the store. But even if they're not delivered by a darling student, apples are especially crisp and sweet when they're in season (from late August to November in North America), and now that it's officially autumn, it's time to put apples on your menu. Here are some sweet and savory apple recipe ideas from food bloggers that caught my eye, and I'm hoping you might try making at least one of these over the weekend.

Photo of Apple Fritters
from The Pioneer Woman Cooks
Who doesn't love a delicious dessert made with apples, and the one that had me drooling on my keyboard was
Apple Fritters
from The Pioneer Woman Cooks. Ree says these will make you smile whether you dust them with powdered sugar or drizzle them with a sugary glaze.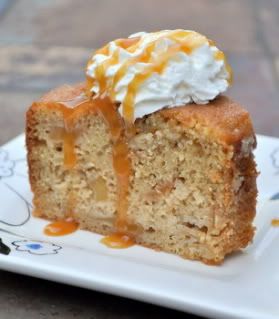 Photo of Maple Apple Ginger Cake
from Baking Bites
Apple cake is another perfect fall treat, especially when the recipe includes maple, such as the
Maple Apple Ginger Cake
from Baking Bites.

Photo of Apple Dutch Baby with Green Chiles
from Homesick Texan
Sometimes it's fun to take a classic apple dessert and shake things up a bit, such as this
Apple Dutch Baby with Green Chiles
from Homesick Texan. Dutch Babies are baked dessert pancakes, and I love this sweet and spicy combo.
More Sweet and Interesting Ideas with Apples:
Caramel Apple Cream Cheese Cookie Bars ~ from Picky Palate
The name says it all, and the gooey caramel drizzled over the top will make these hard to resist.
Apple Quinoa Cobbler ~ from Cara's Cravings
This updated cobbler uses healthful quinoa in the cobbler topping.

Baked Caramel Apple Donuts ~ from Shutterbean
Apple donuts already sound good, but when you add a caramel topping they're a treat you won't want to resist.
Apple Sorbet with Ginger ~ from Leite's Culinaria
Using apples in sorbet was a new idea to me, but this recipe includes a whole bottle of sweet wine, so how can it taste bad?
Rice Apples ~ from Lucullian Delights
This combination from Ilva is kind of a rice pudding stuffed into baked apples which I thought sounds tasty and unusual.

Photo of Potato Salad with Apples and Bacon
from Simply Recipes
If you're still cooking on the grill, I think
Potato Salad with Apples and Bacon
from Simply Recipes would be a great savory apple side dish for early fall menus.

Photo of Roasted Sweet Potatoes with Onions, Apples, and a Hint of Orange
from Farmgirl Fare
I also love savory baked apple dishes such as the
Roasted Sweet Potatoes with Onions, Apples, and a Hint of Orange
from Farmgirl Fare.

Photo of Pecan-Crusted Chicken with Apple Salad
from Crepes of Wrath
Another savory apple combination that I'd happily eat for lunch or dinner is this
Pecan-Crusted Chicken with Apple Salad
from Crepes of Wrath. The apple salad has an interesting dressing made of lemon juice, maple syrup, and peanut butter.
More Interesting Savory Dishes with Apples:
Turkey Burger with Apples, Gruyere, and Sage Mayo ~ from Food Blogga
Susan says these turkey burgers with a thin slice of apple changed her life, and I believe it.
Spinach Apple Salad ~ from Your Home-Based Mom
This salad combination also includes bacon, almonds, and red onion.
Apple, Bacon, and Onion Pizza ~ from Stephen Cooks
You may not have ever considered adding apples to pizza, but this sounds like a combination that would work!
Curried Turkey Salad with Apples, Cranberries, and Walnuts ~ from Pinch My Salt
I love the addition of apples, cranberries, and walnuts to this salad, which could also be made with chicken.
Healthy Waldorf Salad ~ from Kitchen Parade
Waldorf Salad is a classic apple salad idea, but Alanna has a good idea for lightening it up by using nonfat vanilla yogurt to replace mayo in the dressing.
I'm hoping at least a few of those recipes were apple ideas you hadn't thought of before. Of course, while apples are plentiful you can also make classic apple recipes such as apple pie, apple turnovers, and apple crisp. Let us know in the comments about the favorite ways to use apples at your house, and if you have an interesting recipes that uses apples, be sure to share the link.
(Every week on BlogHer, we spotlight five recipes with a common theme for a feature called Weekend Menu Planning, hoping one of them might make it onto the menu at your house. You can find previous recipes shared by checking the Weekend Menu Planning Archives or clicking the tag Weekend Menu Planning.)
Kalyn Denny also blogs at Kalyn's Kitchen where she's focused on creating low-glycemic recipes using fresh ingredients. Kalyn's favorite dessert ides with apples is probably Low Sugar Pumpkin and Apple Crumble.
Comments
More Like This
Recent Posts
by Kalyn Denny
Help protect your family from the transmission of harmful bacteria and viruses! Use Lysol's Full Bathroom Range to remove soap scum, lime scale, and everyday dirt and grime to leave your bathroom smelling clean and fresh.
Read more
FoodSaver® Reviews & Giveaways
Save time, money and space with the FoodSaver® Vacuum Sealing System! Air is the enemy of freshness and FoodSaver® vacuum sealers remove and lock out air and moisture. It keeps food fresh up to 5x longer! Read our bloggers' posts and know more about FoodSaver® plus get a chance to win $100!