Weekend Menu Planning: Try Making Green Goddess Dressing!
BlogHer Original Post
Although you can find Green Goddess Dressing on Wikipedia, I'm guessing there are more than a few BlogHer readers who've never heard of this classic salad dressing, created in 1923 by the Palace Hotel in San Francisco to honor actor George Arliss and his hit play, "The Green Goddess." The dressing is easily identified by its vivid green color, and the flavor is creamy and herbal. There was a time in American cuisine when this type of dressing was very fashionable, and (at least in my family) it was considered the mark of a fine dining establishment if Green Goddess was on the menu. Sadly, Green Goddess eventually got pushed aside in favor of Ranch Dressing, certainly an offspring, although arguably a bit less interesting for true Green Goddess fans.
I loved Green Goddess dressing from the first time I ever tasted it, and in college, I used to buy the bottled dressing whenever I'd see it. Of course, bottled salad dressing can't recapture that restaurant flavor I remember so fondly, so I've decided I'm going to try making Green Goddess dressing this weekend. In hopes that I can entice you to try it along with me, here are some traditional and innovative takes on Green Goddess Dressing that look good.

Photo of Green Goddess Dressing
from Hedonia
Sean of Hedonia declares himself a member of "the cult of Green Goddess." After he had a disappointing version at a restaurant, he wanted to make authentic
Green Goddess Dressing
. Sean used the original recipe from The Palace Restaurant, except he added fresh tarragon, an ingredient I agree is essential!

Photo of Green Goddess Dressing
from Life's Ambrosia
There's another recipe for
Green Goddess Dressing
(also with tarragon) at Life's Ambrosia. Des had never heard of Green Goddess until she had a friend who raved about it, and she describes it as being Ranch Dressing's "more sophisticated sister."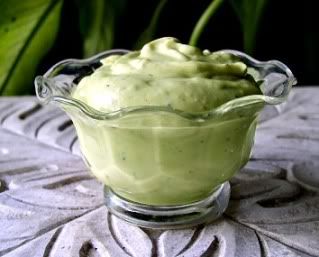 Photo of Guacamole Goddess Dressing
from Fat Free Vegan Kitchen
Of course, every classic recipe gets adapted, sometimes into variations that become favorites in their own right, and in the last decade, dressings with avocado have shown up as the offspring of Green Goddess. At Fat Free Vegan Kitchen, Susan has a
Guacamole Goddess Dressing
that sounds good (and yes, there's tarragon!) Susan also has a recipe for
Susan's Lite Goddess Dressing
, which is her take on the popular Annie's Goddess Dressing that so many people like.

Photo of Green Goddess Dip for Vegetables
from Dinner with Julie
At Dinner with Julie, I found a very tasty sounding
Green Goddess Dip for Vegetables
that uses parsley, green onions, and chives to give the dip its green color.
More Green Goddess Inspired Creations from Food Bloggers:
~I like the Green Goddess Style dressing for Chicken and Radish Salad with Creamy Avocado Dressing at Chocolate and Zucchini, and this recipe also has a healthy dose of fresh herbs in the dressing.
~The Green Goddess Salad Dressing at Vintage Victuals sounds interesting, with chives, parsley, mint, and basil providing the green.
~The Green Goddess Dressing at Opera Girl Cooks adds Greek yogurt for a little extra tang.
~At Tasty Kitchen, Tami from Running with Tweezers has posted Chilled Tomato Soup with Green Goddess Whipped Cream, a perfect summer recipe.
~Green Goddess Salad from The Way the Cookie Crumbles has a Green Goddess-type dressing on a salad with lettuce, shrimp, cucumber, tomatoes, chickpeas, and artichokes.
~There's avocado and Herbes de Provence in the Green Goddess Dressing at Elana's Pantry.
~In case you're thinking Green Goddess is just a North American thing, look at the Green Goddess Dip from Anna at Morsels and Musings in Australia.
~Finally, The Well Seasoned Cook seasons crab meat with scallions, tarragon, and parsley when she creates Green Goddess Crab Puffs.
Do you like Green Goddess Dressing, or are you too young to remember this salad dressing icon? Give us your thumbs up or down in the comments, and if you have a good recipe for Green Goddess dressing, please share!
(Every week on BlogHer, we spotlight five recipes with a common theme for a feature called Weekend Menu Planning, hoping one of them might make it onto the menu at your house. You can find previous recipes shared by checking the Weekend Menu Planning Archives or clicking the tag Weekend Menu Planning.)
Kalyn Denny also blogs at Kalyn's Kitchen where she's focused on creating low-glycemic recipes using fresh ingredients. Kalyn hasn't made Green Goddess Dressing yet, but when she posted Cafe Rio Style Creamy Tomatillo Dressing, some readers called it a spicy version of Green Goddess!
Comments
More Like This
Recent Posts
by Kalyn Denny
Help protect your family from the transmission of harmful bacteria and viruses! Use Lysol's Full Bathroom Range to remove soap scum, lime scale, and everyday dirt and grime to leave your bathroom smelling clean and fresh.
Read more
FoodSaver® Reviews & Giveaways
Save time, money and space with the FoodSaver® Vacuum Sealing System! Air is the enemy of freshness and FoodSaver® vacuum sealers remove and lock out air and moisture. It keeps food fresh up to 5x longer! Read our bloggers' posts and know more about FoodSaver® plus get a chance to win $100!