Weekend Menu Planning: Try Some Foods from New Orleans
BlogHer Original Post
Food lovers are always looking for an excuse to try new recipes, and when New Orleans wins the Superbowl in the same month as Mardi Gras, that's a good reason to try some New Orleans recipes, wouldn't you say? Even if you can't hop on a plane and visit, here are five dishes to try with recipes from food bloggers that can help you get a taste of that unique New Orleans food experience, right in your own kitchen.
New Orleans Bread Pudding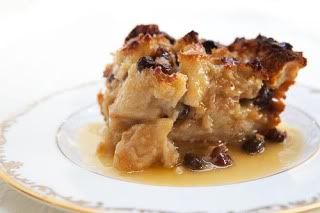 Photo of Bread Pudding from Simply Recipes
Bread pudding is the quintessential New Orleans dessert, and the New Orleans Bread Pudding from Simply Recipes (pictured above) uses a recipe from a famous New Orleans restaurant, so you know it's authentic (and not for kids!) I'm also intrigued by Krispy Kreme Bread Pudding from A Yankee in a Southern Kitchen and Cinnamon Roll Bread Pudding from Home with Mandy.

Jambalaya

Photo of Jambalaya from Hedonia
Jambalaya is a rice dish, where seafood, chicken, or sausage and tomatoes are cooked with rice to make a dish that's similar to a spicy version of Paella, and the Jambalaya from Hedonia (pictured above) looks like an authentic recipe to me. There's also a tasty-looking Chicken and Shrimp Jambalaya at the Perfect Pantry, Skillet Jambalaya at Dinner with Julie, and Gluten-Free Crockpot Jambalaya at Gluten Free Easily.
Muffaletta or Po' Boy Sandwich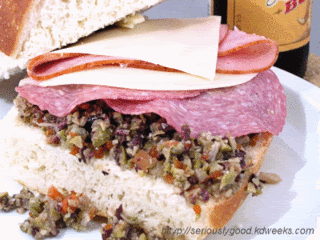 Photo of Muffaletta from Seriously Good
New Orleans has two famous sandwiches that are not to be missed if you visit the city. The Muffaletta from Seriously Good (pictured above) is a sandwich that combines various kinds of salami, ham, and cheese, with olive relish on a white bread roll. There's also a Non-Native But Makes My Family Happy Muffaletta at Retro Food. Although it's not exactly the same as the famous New Orleans shrimp Po' Boy Sandwich, the Cajun Popcorn Shrimp Sandwich at Life's Ambrosia looks deliciously close. There's also a tasty-looking Beer Boiled Shrimp Po' Boy at Stephen Cooks and an Oyster Po' Boy at Madeline's Adaptations.
Gumbo

Photo of File Gumbo
from The Paupered Chef
Gumbo is a stew-like dish with seafood, chicken, or sausage cooked with file powder (dried sassafras leaves) to thicken the mixture. It's traditionally served with rice, and the File Gumbo at The Paupered Chef looks authentic and has a lot of tips to make your gumbo the real deal, even if you can't travel to New Orleans. There's also a lovely looking Chicken and Sausage Gumbo at Homesick Texan, a veggie Gumbo z'Herbes at Cheap Healthy Good, and Empty the Freezer Gumbo at Andrea Meyers.
Red Beans and Rice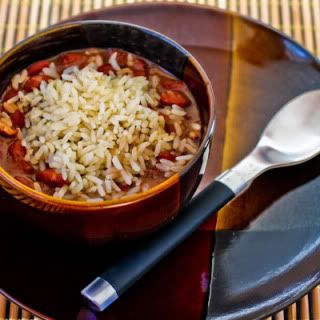 Photo of Slow Cooker Red Beans and Rice
from Kalyn's Kitchen
I'd have a hard time picking my favorite New Orleans dish, but my favorite New Orleans food to cook at home would have to be Red Beans and Rice, and I recently made Slow Cooker Red Beans and Rice (pictured above.) There's also a lovely authentic version of Red Beans and Rice in the Crockpot at FoodMomiac (with an explanation of why this was traditionally made on Monday). If you prefer your red beans and rice without meat, the Real Louisiana Red Beans and Rice at Fat Free Vegan Kitchen look like they would be perfect.
So there are my picks for some classic New Orleans dishes. I know there are plenty of others I missed, so let me know in the comments what particular recipe defines New Orleans cooking for you.
(Every Thursday night on BlogHer, we spotlight five recipes with a common theme for a feature called Weekend Menu Planning, hoping one of them might make it onto the menu at your house. You can find previous recipes shared by clicking the tag Weekend Menu Planning.)
Kalyn Denny also blogs at Kalyn's Kitchen where she's focused on creating low-glycemic recipes using fresh ingredients.
Recent Posts
by Kalyn Denny
Sparkling ICE is a bold flavored sparkling water that truly delivers on taste and contains just the right amount of fizz. Read our bloggers' posts and get more details on how you can enter the Flavor Face Off plus find out more about the delicious flavors that Sparkling ICE has to offer.
Read more
Louisiana Seafood Reviews & Giveaway
With a little help from Louisiana Seafood, bloggers share their favorite Louisiana Seafood recipes. Read their posts and enter for a chance to win $100!