Weekend Menu Planning: Twenty More Pumpkin Sweets for Halloween Treats
All during October, I've focused on pumpkin recipes for Weekend Menu Planning. First up were ideas for Pumpkin Soup, Chili, Stew, or Drinks. Next came Savory Pumpkin Recipes for Breakfast, Lunch, or Dinner. Last week I shared some spectacular Pumpkin Recipes for Cupcakes, Cookies, Cakes, Bread, and Muffins. If you still haven't cooked anything with pumpkins, you certainly can't blame me! It's not too late though, because this week I'm giving you a final nudge with twenty more sweet pumpkin ideas I'm sharing just in time for you to make one of them for a Halloween dessert.

Photo of Pumpkin Pie Pudding
from Dine and Dish
This
Pumpkin Pie Pudding
from Dine and Dish would make a perfect dessert for Halloween, and even more fun, this recipe came from the latest issue of Cooking Light but it was created for the magazine by Susan from
Food Blogga
!

Photo of Pumpkin Flan with Pepita Brittle Garnish
from Fab Frugal Food
For another take on pudding flavor, there's a double dose of pumpkin goodness in this
Pumpkin Flan with Pepita Brittle Garnish
from Fab Frugal Food.

Photo of Sweet Pumpkin Fried Wonton Desserts
from Steamy Kitchen
These
Sweet Pumpkin Fried Wonton Desserts
from Steamy Kitchen would be fun to make for Halloween. This might even be a project you could do with older kids if an adult supervises the frying.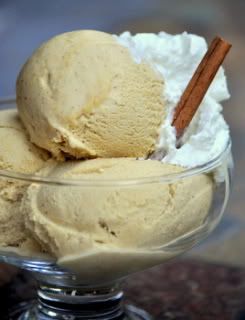 Photo of Pumpkin Pie Ice Cream
from Baking Bites
If you live in a place that's not that cold at Halloween, how about
Pumpkin Pie Ice Cream
from Baking Bites?

Photo of White Chocolate Pumpkin Spice Truffles
from Crepes of Wrath
If you'd like a sophisticated pumpkin candy for Halloween, consider the
White Chocolate Pumpkin Spice Truffles
from Crepes of Wrath.

Photo of Double Layer Pumpkin Cheesecake
from Fat Free Vegan Kitchen
Pumpkin Cheesecake is one of my favorite pumpkin desserts, and this
Double Layer Pumpkin Cheesecake
from Fat Free Vegan Kitchen looks so pretty with the two different-flavored layers.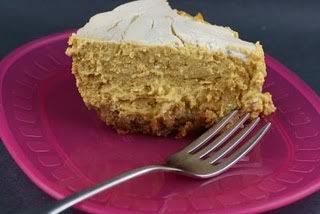 Photo of Crockpot Pumpkin Cheesecake
from A Year of Slow Cooking
If you're a mom who's going to be very busy on Halloween,
Crockpot Pumpkin Cheesecake
from A Year of Slow Cooking might be a great option.

Photo of Pumpkin and Apple Crumble
from Nami Nami
Pumpkins and apples both have the feel of Halloween, and
Pumpkin and Apple Crumble
from Nami Nami looks like a perfect fall dessert.

Photo of 5-Ingredient Vegan Pumpkin Pie
from Happy Healthy Life
Of course, you can't talk pumpkin desserts without having pumpkin pie, and this
5-Ingredient Vegan Pumpkin Pie
from Happy Healthy Life looks very tasty.

Photo of Apple-Butter Pumpkin Pie
from Kitchen Parade
Finally, more pumpkins and apples together in this
Apple-Butter Pumpkin Pie
from Kitchen Parade, which Alanna says is a happy marriage between apple butter and pumpkin.
Ten More Pumpkin-Flavored Desserts or Halloween Treats:
Chocolate Pumpkin Pots de Creme (vegan, dairy free, sugar free) ~ from Diet, Dessert, and Dogs
Pumpkin Black Bottoms ~ from Coconut and Lime
Pumpkin Cheesecake Pie with Gingersnap Crust ~ from In Good Taste
Caramel Pumpkin Pie ~ from Sticky Gooey Creamy Chewy
Pumpkin Clafouti ~ from Healthy Green Kitchen
Pumpkin Blondies ~ from My Baking Addiction
Pumpkin Flan ~ from Bitchin' Camero
Pumpkin Chocolate Chip Granola Bars ~ from Two Peas and Their Pod
Pumpkin Pie Cheese ~ from Closet Cooking
Pumpkin Ale Profiteroles with Cinnamon Caramel Sauce ~ from Satisfied
I know there are many more good ideas for pumpkin desserts that I haven't mentioned, so if you have a favorite pumpkin dessert, please share your recipe or a link in the comments.
(Every week on BlogHer, we spotlight five recipes with a common theme for a feature called Weekend Menu Planning, hoping one of them might make it onto the menu at your house. You can find previous recipes shared by checking the Weekend Menu Planning Archives or clicking the tag Weekend Menu Planning)
Kalyn Denny also blogs at Kalyn's Kitchen where she's focused on creating low-glycemic recipes using fresh ingredients. All this talk about pumpkin recipes inspired Kalyn to make Low-Sugar and Whole Wheat Pumpkin Muffins last week.
COMMENTS
Recent Posts
by Kalyn Denny
Most Popular
We asked our bloggers to craft some recipes from the different Success® Rice flavors and tell us about it. Check out their ideas and you could win a $100 Visa gift card!
Read more
Lean Pockets have no artificial flavors, a good source of protein & have 100% real cheese. Read our bloggers posts where they will tell you their guilt free experiences with Lean Pockets. Plus get a chance to win $100!
Read more