Weekend Menu Planning: What's Your Favorite Filling for Stuffed Peppers?
BlogHer Original Post
When I was a kid my mom made green bell peppers stuffed with a filling of rice, hamburger, and tomato sauce, and I remember eating the filling but refusing to eat even a bite of the green bell pepper. Luckily our tastes mature when we grow up, and now I look forward to fall when enormous bell peppers start going on sale. Recently I bought some beautiful green bell peppers that were just begging to be stuffed, and when I did a search for stuffed pepper recipes, I was amazed at all the creative ideas I found for stuffed peppers.
If peppers are plentiful right now in your own market, here are some non-traditional and traditional ideas for stuffing them. If you already have your own favorite filling for stuffed peppers, please share your recipe or a link in the comments.
Photo of Fruity Quinoa Stuffed Peppers
from Food Blogga.
A healthful option is peppers stuffed with grain without any meat, and I like the sound of Fruity Quinoa Stuffed Peppers from Food Blogga, with a filling that has dried fruit, ginger, and cinnamon.
More Meatless Stuffed Peppers with Grains:
From Cheap Healthy Good ~ Stuffed Peppers with Black Beans and Corn also have cheese, cilantro, and jalapeno for lots of flavor.
From The Taste Traveller ~ Vegetable, Rice, and Chickpea Stuffed Bell Peppers also have tomatoes, chopped peppers, and carrots in the filling.
From Elizabeth's Edible Experience ~ These Quinoa Stuffed Peppers have a Mexican flair with diced peppers, onions, and jalapenos added to the mix.
Photo of Sweet Potato Stuffed Peppers
from Happy Healthy Life
An idea I thought was unique and appealing was stuffing peppers with another vegetable, and the Sweet Potato Stuffed Peppers from Happy Healthy Life sound like a winner.
More Bell Peppers Stuffed with Vegetables:
From Spicy Tasty ~ This version of Stuffed Bell Peppers is an Indian curry dish with the peppers stuffed with a spicy filling that has potatoes, onion, paneer cheese, garlic, chiles, and other seasonings.
From A Veggie Venture ~ Tomato and Basil Stuffed Peppers have a cheesy filling with chopped tomato, basil, and other herbs.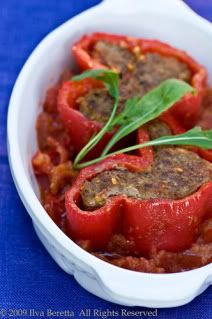 Photo of Meat-Stuffed Pepper Slices with Tomato Sauce
from Lucullian Delights
There are also stuffed pepper variations where the main filling is meat or seafood, like these Meat-Stuffed Pepper Slices with Tomato Sauce from Lucullian Delights.
More Peppers Stuffed with Meat or Seafood:
From Veggie Lady 4 Life ~ Cheesy Tuna Stuffed Peppers have a filling that combines tuna, cottage cheese, spinach, and tomatoes.
From Observation Diary ~ Stuffed Mini Bell Peppers with Sausage use leftover sausage and green onions stuffed into peppers and roasted.
From Home Cooking Rocks ~ Capsicum Halves Stuffed with Chicken, Cheese and Vegetables have a filling with ground chicken, onion, celery, pimento, cheese, and bread crumbs.
Photo of Goat Cheese and Olive Stuffed Peppers
from The Perfect Pantry
Who wouldn't like the idea of peppers stuffed with cheese, and these Goat Cheese and Olive Stuffed Peppers from The Perfect Pantry would definitely appeal to me!
More Ideas for Peppers Stuffed with Cheese:
From Nami Nami ~ Mozzarella Stuffed Peppers use cherry tomatoes, onions, and basil to flavor the filling.
From Seriously Good ~ Feta Stuffed Peppers are the perfect Meze appetizer, with a cheese filling seasoned with lemon, red onion, and dill.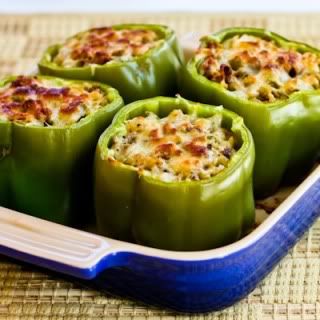 Photo of Stuffed Green Peppers with Brown Rice, Italian Sausage, and Parmesan
from Kalyn's Kitchen
Finally, stuffing peppers with a mixture of rice, meat, and seasonings is one of those classics that have endless variations, and when I found those beautiful bell peppers recently I ended up making Stuffed Green Peppers with Brown Rice, Italian Sausage, and Parmesan.
More Stuffed Peppers with Rice and Meat:
From Life's Ambrosia ~ Linguica and Rice Stuffed Bell Peppers add sliced Linguica sausage to the filling mixture for a spicy touch.
From Taste and Tell ~ These Stuffed Bell Peppers have a spicy filling with both ground beef and sausage added to the rice.
From Delementals ~ Spiced Lamb Stuffed Sweet Peppers have a filling of rice and lamb with lots of interesting spices.
(Every week on BlogHer, we spotlight five recipes with a common theme for a feature called Weekend Menu Planning, hoping one of them might make it onto the menu at your house. You can find previous recipes shared by checking the Weekend Menu Planning Archives or clicking the tag Weekend Menu Planning.)
Kalyn Denny also blogs at Kalyn's Kitchen where she's focused on creating low-glycemic recipes using fresh ingredients. Kalyn has made a lot of stuffed pepper variations, but Stuffed Peppers with Turkey Italian Sausage, Ground Beef, and Mozzarella is still probably her favorite.
Comments
More Like This
Recent Posts
by Kalyn Denny
Help protect your family from the transmission of harmful bacteria and viruses! Use Lysol's Full Bathroom Range to remove soap scum, lime scale, and everyday dirt and grime to leave your bathroom smelling clean and fresh.
Read more
FoodSaver® Reviews & Giveaways
Save time, money and space with the FoodSaver® Vacuum Sealing System! Air is the enemy of freshness and FoodSaver® vacuum sealers remove and lock out air and moisture. It keeps food fresh up to 5x longer! Read our bloggers' posts and know more about FoodSaver® plus get a chance to win $100!