Weekend Menu Planning: Why Not Try Making Homemade Crackers?
Every week I show up here with a new set of recipes that I'm encouraging you to add to your menu for weekend cooking. Usually they're seasonal or holiday food ideas that just seem right for the particular time of year, but this week I'm egging you on you to cook something just for fun. Why not try making homemade crackers?
If you're wondering why homemade crackers are worth the effort, the difference between commercially made crackers and homemade crackers is like the difference between commercially made cookies and homemade cookies. Big difference! Also, when you make your own crackers you can make sure they're vegan, vegetarian, gluten-free, low carb, sugar-free, or whatever other quality fits your food requirements. Lots of food bloggers seem to be making homemade crackers, so I've gathered some good recipe ideas to get you started on it as well.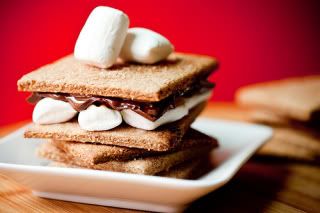 Photo of Vegan Graham Crackers
from Vegan Yum Yum.
At Vegan Yum Yum, Lolo has a delightful looking version of Vegan Graham Crackers. She also has tips for turning them into S'Mores, if you're so inclined!

Photo of Homemade Graham Crackers
from Two Peas and Their Pod
There's a different version of (non-vegan) Homemade Graham Crackers at Two Peas and Their Pod. These are sprinkled with cinnamon sugar, and a few of Maria's crackers ended up as S'Mores as well!

Photo of Cheddar-Parmesan Crackers
from Andy Ryan at Leite's Culinaria
If you'd prefer a savory cracker, the Cheddar-Parmesan Crackers from Leite's Culinaria look like they would taste amazing. This dough can be made in advance and frozen for up to a month before it's rolled out and baked, making these a perfect option for parties.

Photo of Grain-Free Almond Crackers with Garlic and Rosemary
from Nourishing Days
Another savory cracker option that looks enticing is the Grain-Free Almond Crackers with Garlic and Rosemary from Nourishing Days. Apparently even the three-year-old in the family enjoyed these crackers.

Photo of Rosemary and Olive Oil Crackers
from Erin Cooks
Finally, I'd love to try the Rosemary and Olive Oil Crackers from Erin Cooks, which Erin is serving with a Quick Roasted Red Pepper Dip in the photo. Erin made her crackers in lots of whimsical shapes, but they sound like they would taste good no matter what shape you use.
More Tasty Cracker Recipes from Food Bloggers:
From Fat Free Vegan Kitchen ~ Gluten Free Chickpea Crackers
From KitchenMage ~ Multigrain Rosemary Sage Crackers
From Cookin' Canuck ~ Savory Cheddar and Parmesan Crackers
From Wicked Good Dinner ~ Olive Oil Crackrs with Anise Seed
From Everyday Dish TV ~ Julie's Rosemary Garlic Crackers (video)
(Every week on BlogHer, we spotlight five recipes with a common theme for a feature called Weekend Menu Planning, hoping one of them might make it onto the menu at your house. You can find previous recipes shared by clicking the tag Weekend Menu Planning.)
Kalyn Denny also blogs at Kalyn's Kitchen where she's focused on creating low-glycemic recipes using fresh ingredients. The best crackers Kalyn's ever made are Gluten-free Cheese Crackers with Almond Flour, which are highly addictive!
ADD A COMMENT
Recent Posts
by Kalyn Denny
Most Popular
Simply Beverages™ use never-from-concentrate juices in all of their beverages. And they never add any preservatives, colors or artificial flavors. Read our bloggers' posts and find fun beverage recipes you can serve this summer! Plus get a chance to win $100.
Read more
Latest comments
Excedrin® Migraine relieves sensitivity to light, sensitivity to sound, nausea and relieves pain in just 30 minutes. Read our bloggers' posts as they talk about their experiences with migraine and how they cope with it. Plus get a chance to win $100!
Read more