What I Ate Wednesday: Moving Edition
Happy Wednesday!
We are moving to California in 3 days and so our place is a disaster! Everything is pretty much packed at this point, so everything I ate on Tuesday had to be something easy to make that didn't require any dishware. I've packed the entire kitchen, except for some tupperware, one fork (so I can still eat) and one glass. I am just going to throw out the tupperware, fork and glass when we leave.
Breakfast: Toast with peanut butter and a fruit smoothie. I just added whatever frozen fruit I still had in the freezer with some yogurt. I made this smoothie the day before when the blender was still unpacked and so my smoothie was ready for me today as soon as I got back from my run. I ate on my yoga mat while stretching because I was in a rush and there wasn't anywhere else to really eat anyways.
Lunch: Leftover Pizza eaten straight out of the box.
Snack: Rasberrires
Dinner: I had a salad with grilled chicken. I had grilled chicken from Trader Joe's in my freezer. So I just defrosted that and made a salad with a salad kit. I love this salad.
Dessert: Brownies! I made brownies Monday night because I knew I would be craving something sweet this week and wouldn't be able to bake.
I'm linking up to What I Ate Wednesday on Jenn's blog. Head over to see what other bloggers have been eating!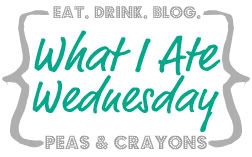 More Like This
Recent Posts
by laceupwithkace
Johnsonville Sausages have no fillers for a juicy and firm texture. Our bloggers came up with delicious Fall Comfort Classic recipes your family will love. Re-create them at home.
Read more