What I Ate Wednesday: Moving Edition
Happy Wednesday!
We are moving to California in 3 days and so our place is a disaster! Everything is pretty much packed at this point, so everything I ate on Tuesday had to be something easy to make that didn't require any dishware. I've packed the entire kitchen, except for some tupperware, one fork (so I can still eat) and one glass. I am just going to throw out the tupperware, fork and glass when we leave.
Breakfast: Toast with peanut butter and a fruit smoothie. I just added whatever frozen fruit I still had in the freezer with some yogurt. I made this smoothie the day before when the blender was still unpacked and so my smoothie was ready for me today as soon as I got back from my run. I ate on my yoga mat while stretching because I was in a rush and there wasn't anywhere else to really eat anyways.
Lunch: Leftover Pizza eaten straight out of the box.
Snack: Rasberrires
Dinner: I had a salad with grilled chicken. I had grilled chicken from Trader Joe's in my freezer. So I just defrosted that and made a salad with a salad kit. I love this salad.
Dessert: Brownies! I made brownies Monday night because I knew I would be craving something sweet this week and wouldn't be able to bake.
I'm linking up to What I Ate Wednesday on Jenn's blog. Head over to see what other bloggers have been eating!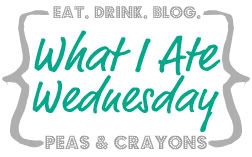 More Like This
Recent Posts
by laceupwithkace
Sparkling ICE is a bold flavored sparkling water that truly delivers on taste and contains just the right amount of fizz. Read our bloggers' posts and get more details on how you can enter the Flavor Face Off plus find out more about the delicious flavors that Sparkling ICE has to offer.
Read more
Aquafresh Reviews
Aquafresh® toothpaste helps protects tooth enamel from damage caused by sugar acids and also helps protect your teeth against cavities. What's your favorite way to take care of your teeth on the go this spring? Comment on the posts for a chance to win a $100 VISA gift card.
Recent Comments
on Health