What Jackie knew: Accessorizing your basic wardrobe
So let's assume that you have pared your closet down to the basics. You have a wardrobe of pieces that work for your everyday life. And while some part of you is thinking THANK GOD, there is another part that is already bored.
Am I right?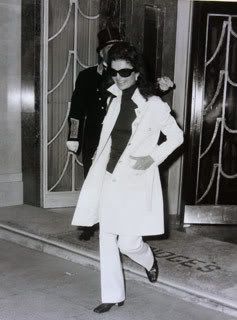 Jacqueline Kennedy Onassis, 1970
Think about your basics wardrobe as the building block of a distinct personal style. Anyone can wear a black turtleneck, but no one wears it like Jackie Kennedy did. Her big sunglasses, her classic trench coats, made that black sweater distinctly her own.
It's all about the accessories.
A great necklace, a beautiful pair of shoes, a bright bag can change the look of the most basic outfit. Focus on pieces you will really wear, pieces that reflect your style and fit your life. If you carry your laptop everywhere, find a great tote in a bright color. Hate heels? Look for embellished flats.
One option is to rotate accessories; wear your jeans with ballet flats one day and peep toes the next. Change your bag every day. Make a point of wearing necklaces or earrings or bracelets.
A second option is to rely on distinctive pieces that you wear all the time. A handmade bag, a vintage watch, oversize sunglasses. Wear them with everything, for day and night, weekday and weekend. Make them your signature.
Shop smart for accessories. Watch end of season sales for shoes and bags; search consignment and second-hand stores for scarves and belts. Etsy is a great source for one-of-a-kind jewelry, as are local craft fairs.
Accessories are an easy way to incorporate trends into your classic closet. This season, embellished flats are huge; wear them with your basic black skirt or a pair of tailored trousers for an up-to-date look. Hot pink is big for fall 2007; think about a great scarf, for a punch of color.
Basic style is good. After all, no one ever called Jackie Kennedy boring.
Susan Wagner writes about fashion at Friday Style and The Working Closet, and about everything else at Friday Playdate. She relies on her shoes to keep her basics from getting boring.
ADD A COMMENT
Recent Posts
by Susan Wagner
Most Popular
Chateau Ste. Michelle ALWAYS delivers remarkable wine experiences. We asked our bloggers to try Chateau Ste. Michelle wine and share the story behind their perfect sip. Read their reviews plus get a chance to win $100!
Read more
The enamel of baby teeth and new adult teeth is vulnerable to damage. Help protect your child's teeth for years to come by using ProNamel 6-12 Years Toothpaste. Read our bloggers' posts and see you should start your kids with using ProNamel 6-12 Years Toothpaste plus get a chance to win $100!
Read more