What My Dogs Would Say If They Could Talk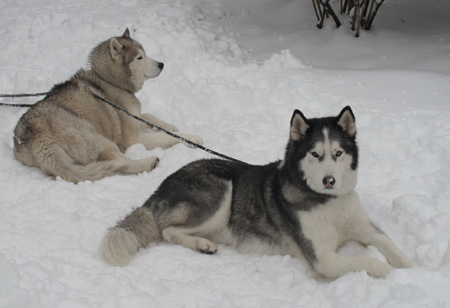 Now that I'm working from home full-time, I'm with my two Siberian Huskies a whole lot more. Whether they (and I) enjoy this is another story.
Huskies are stubborn dogs and want what they want. They're not sleeping at my feet or fetching things for me throughout the day. They're not looking for extra love and attention. They keep to themselves, for the most part, and hang out around the house. Kona, my oldest, is usually hairing up the rug in my office, while Kailua is usually lounging outside.
I love my dogs, but they can get demanding throughout the day. If they could talk, I'm pretty sure our conversations would go something like this.
Me (in the kitchen making coffee in the morning, feeling Kona's stare): Kona, I'm sorry to disappoint you, but you're not getting any other food.
Kona (nosing his all natural, expensive food we buy him due to his allergies): This is gross. I want steak. Or cheese.
Recent Posts
by anotherjennifer
We asked our bloggers to craft some recipes from the different Success® Rice flavors and tell us about it. Check out their ideas and you could win a $100 Visa gift card!
Read more
Lean Pockets have no artificial flavors, a good source of protein & have 100% real cheese. Read our bloggers posts where they will tell you their guilt free experiences with Lean Pockets. Plus get a chance to win $100!
Read more