When the Lights Go Out: Coping with Loss After Suicide
Yesterday, a sweet friend of mine from high school passed away. I am too young for this. Too young to know what it's like to lose so many of my friends in this life. Especially Mikey. His death could have been prevented.
Mikey was so loved and cared for. Voted Class Clown in high school, he held up that role like it was the only title he would ever have in his life. He was the sunshine in our class. Always making people laugh – most times at his own expense. He put 150% into every decision he made. And unfortunately, that went for those not-so-wise decisions.
GREEN COVE SPRINGS - When his son called him Sunday to say he loved him, there was something in his voice that he knew wasn't right.

"He said, 'Daddy, I really love you,' " Michael Edmonds said. "And I said, 'Mikey, don't do this.' And he said, 'Daddy, I can't deal with this. It just hurts too much.' "

Then Edmonds got another call. This time it sounded like his son was having second thoughts.

But Edmonds wasted no time. He loaded up the truck and headed toward Gainesville, where Michael Richard Edmonds Jr. studied journalism at the University of Florida. His son had already called 911, Edmonds said.

Edmonds had barely made it to Starke, however, when he got a call.

Authorities told him it appeared that his 26-year-old son had taken his own life, a life that had been held hostage by a bi-polar disorder.

He leaped from the upper level of Ben Hill Griffin Stadium, where he and his dad had shared many Gators memories together.
I think you stumbled on this post today for a reason. I doubt my blog reaches the vast corners of the internet, but I can only hope someone finds this post by some divine reason.
I beg you, please be kind to people. Be kind and be thoughtful. Tell your friends they're not alone. Not alone in gladness, and not alone in despair. Even if they get tired of hearing it. It could be that fateful night, standing in your favorite place, struggling with those fateful thoughts, where you NEED to hear it. But you don't.
Mikey had struggles in his life and his friends had been there for him, both near and far, both in person and virtually. Giving support, friendship, and encouragement to him as he faced his demons.
If you or someone you know have thoughts of ending your life. PLEASE reach out. PLEASE tell someone. Everyone has a past. Everyone has demons. Every. Single. One. Of. Us. No one is worthy enough to judge another. Only the one true Maker can cast the final judgment. PLEASE don't wait until it is too late.
There are a ton of great resources out there if you are experiencing difficulties in life. Don't do it alone. Your friends and family don't want you to do it alone. What a precious gift you give to someone by reaching out to them for help. PLEASE. PLEASE. Reach out.
Last night, I got the worst night's sleep that I can remember. I didn't understand why until this morning when I got word of Mikey's passing almost as soon as I opened my eyes and looked at my phone. Do you ever have those "something's gone wrong...but what?" feelings?
This morning, driving to work, those feelings were all I could think of. Then, a random moment of happiness popped into my head. I started singing the words to Five's song "When the Lights Go Out." I have not thought about that song in YEARS. Years. But I am a very random person, so it didn't seem out of character to break out singing a random song from junior high while driving in the car. I thought to myself, "I need to download that. I love a good blast from the past."
Today at lunch, I thought of Mikey. I went to send a Facebook message to his sister, who I also knew in high school, and right there, right on her timeline, I saw it.
A message from Mikey (to his sister):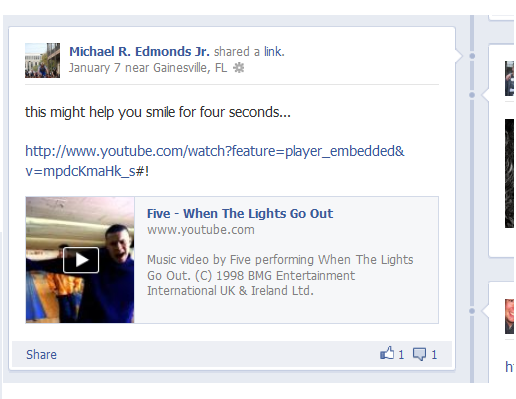 It's funny how God works sometimes. Even now that he's gone, he is still helping everyone else heal their pain. Even if he couldn't heal his own. This made me smile for four seconds, Mikey.
I pray Mikey found his peace. More importantly, I hope he found peace with Jesus in his last moments.
We are too young to do this. Too young to lose one more friend.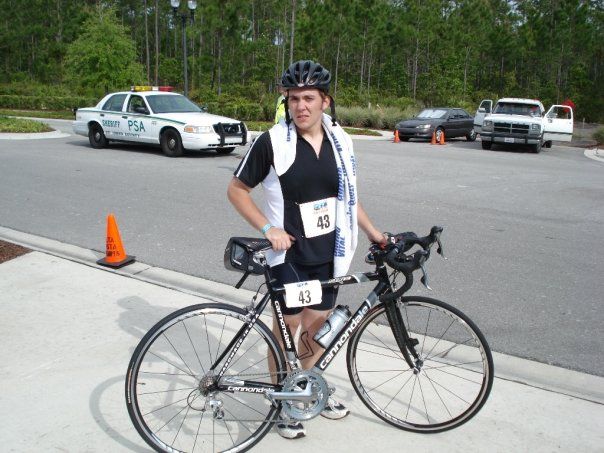 Rest in peace, Michael R. Edmonds, Jr.
Comments
More Like This
Recent Posts
by Shannon Sebastian
Our bloggers use the new ARM & HAMMER™ Truly Radiant™ Collection for a radiant smile. Read their posts where they share a few of their real-life experiences and advice on how to feel radiant day-in and day-out. Plus get a chance to win a $100!
Read more
Nature Made Gummies
With a little help from Nature Made, bloggers share the benefits of a well-balanced life and prioritizing your health in a fun and enjoyable way!
Recent Comments
on Health