When Was Your Last Date With Your Partner? Focus more on your relationship with each other, Rather than the kids
I realized in the over one hundred posts from this past year, I have not written once about marriage or committed relationships. I've written about simple living issues such as organizing, eco-friendly items, emotional health, community events, and even our dog, but not one post has been about the very important relationship we have with our spouses or partners. Why is that?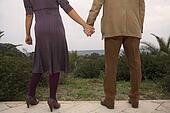 Partly because I hesitate to write about some issues, because I don't want to sound too preachy. I do not consider myself a relationship expert, nor do I think that my marriage is perfect. But also because in our family (like in so many other families) we are too focused on the kids, and not as much on each other. This sort of hit me the other day when someone asked when the last time I went on a date with my husband was. Let's just say it was WAY too long ago.
According to an article in March/April's issue of Psychology Today titled The American Nightmare: We have everything the American Dream prescribed, So why aren't we happy? by Lauren Sandler, our expectations for our partners are way too high. She quotes a psychology professor at San Diego University, Jean Twenge.
Twenge's grandmother was happily married to her grandfather for over fifty years "But she would have laughed in my face if I had asked her, 'Was he your best friend?'" She goes on to say "Now we expect our marriage partner to be our best friend and a great lover, a great parent and soul mate, really-good looking and have a great sense of humor. We have these expectations for marriage we can't possibly fulfill."
She also interviewed Linda Waite, who studies marriage at the University of Chicago. Waite contends that all marriages are better for children than divorce (outside of abusive cases). Therefore, "It's wiser to ignore your kids and focus on your relationship than to focus on your kids and ignore your relationship." For most of us, that is not what we do. In fact, we tend to do just the opposite.
So while I am not ready to let go of my expectation that my husband be my best friend (because he is), I will think about letting go of a few of my smaller, less important expectations. I vow to try to make him more of a priority and to go on more dates with him. I also vow to write more posts about marriages and relationships.
What are your thoughts on living simply with your spouse or partner?
Cross posted with Simple Living Family
Related Posts
Recent Posts
by Karla Elaine
We took a big bite of Pizza Hut's® Gluten Free pizzas and we loved it! Check out our bloggers' reviews and see why you need to visit your nearest Pizza Hut and get yourself those cheese-only and pepperoni Gluten-Free Pizzas, made with Udi's® certified gluten-free crust.
Read more
Most Popular
on Marriage and Commitment
Recent Comments
on Marriage and Commitment