In Which I Wrote an Advent Devotional
This month, I gave up sleep. I sort of gave up showering. I kind of gave up being a nice person. But I finished an ebook! (Actually 1.5, but we'll talk about the other one when it's finished.) I have been wanting to write an advent devotional for years, and this year the fire got lit and I went bananas diving into this project.
The result is a devotional that runs December 1-25 and pairs Old and New Testament readings along with a bite-sized reflection and a few questions for discussion.
The good news for you? Normally $2.99 (which is still cheap-o), this weekend (Friday & Saturday) it's FREEEEEEEEEE! I totally heard that in my head like the voice of Oprah. If you want to snag your copy, you can find Make Him Room on Amazon.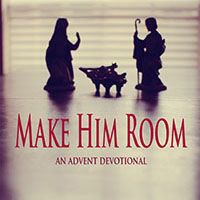 Kiki
Comments
Related Posts
More Like This
Help protect your family from the transmission of harmful bacteria and viruses! Use Lysol's Full Bathroom Range to remove soap scum, lime scale, and everyday dirt and grime to leave your bathroom smelling clean and fresh.
Read more
Most Popular
on Spirituality
Recent Comments
on Spirituality