Win a $25 Visa Gift Card and Vivi LeDish Gift Set!
Enter to win a Vivi LeDish Gift Set! Mother & Daughter matching aprons (just like Vivi's), "Meet Vivi LeDish" print book, Vivi LeDish Cookbook Cover, Vivi LeDish grocery tote, Vivi LeDish serving plate, Vivi LeDish pin & sticker set, and $25 Visa Gift Card! No Purchase Required!
This gift set is a perfect way to start creating healthy habits and warm memories that will last a lifetime (and the aprons are handmade by Nona LeDish!)
http://www.viviledish.com/mamaledish/?p=3110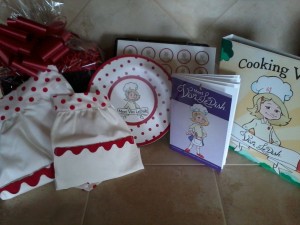 Recent Posts
by MamaLeDish
Most Popular
We asked our bloggers to craft some recipes from the different Success® Rice flavors and tell us about it. Check out their ideas and you could win a $100 Visa gift card!
Read more
Lean Pockets have no artificial flavors, a good source of protein & have 100% real cheese. Read our bloggers posts where they will tell you their guilt free experiences with Lean Pockets. Plus get a chance to win $100!
Read more