Women, Girls, and Special Needs Shine in John Legend Video: But Media Must Get the Whole Story Right
Special needs, cancer survivors, and all shapes and sizes of women and girls shine beautiful in the new video by John Legend, "You & I (Nobody In The World)." The melody is touching; the images will probably make you cry. I did. So what in the world could go wrong with a video like this?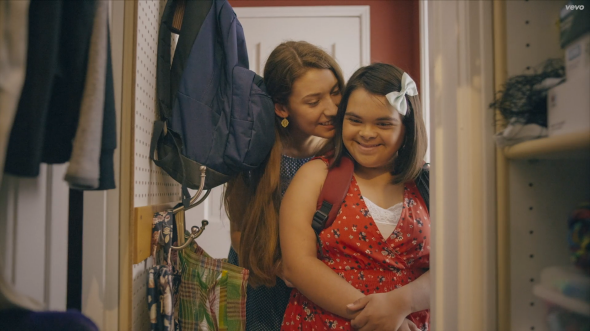 The more we see images of the world around in higher levels of national media, the more we bust down the barriers that keep us separate. Aren't we all just the same person inside? The visions of "non-beautiful" people in major moments on television, films, and videos, makes life less scary.
When my son greets someone randomly in a store, I can almost every time recognize when it is the first time they've ever gotten a hug or handshake from someone with special needs. He opens doors with the grandest of smiles and the warmest of hugs and handshakes. Perhaps the person goes home a tad more in their shopping cart than when they left for home. The song and video capture a touch of the spark we can give others by accepting each of us - warts and all - as super people. The flaws can be the greatest things about us as it the platform we can use to grow, learn, transform and use those perceived weakness to become giants.
Back to that question I posed in the beginning. What could go wrong with such a nice video and a positive message? As I read about the story and was curious how the media as reporting about the Down syndrome part, I was a little shocked to find out the biggest news sources (not all, but many) didn't even take the time to find out how Down syndrome was spelled.
The first site I looked at was Slate. The photograph above was taken from a video still from the Vevo video for You & I (Nobody In The World), which was posted on Slate. I applaud all these steps. The next step is to start getting the term Down syndrome correct. Even I made this mistake early on. Yet, we can research so easily with a flick of the wrist and a CLICK.  (Who goes to the library to do research before posting on a blog?) The beauty of the Internet may mean we can stay in our pajamas to write in an article, but we still need to look things up.
After Slate, I read the story on the New York Post, The Hollywood Gossip, Marie Clair , and Ryan Seacrest, which all spelled Down syndrome incorrectly.  I almost stopped looking as every big name website was getting it wrong until I hit the The Washington Post. Cheers for getting it right! I wrote comments on a few sites or sent them emails. However, this mistake is not worth losing the positive message of the video for spelling or semantics, but as we pay attention to these details, it will help in the educational process.
We're all learning, me included. I've made (and sometimes might even still make) the mistake myself. I am sure I've typed it wrong many times. We can all correct our errors, especially simple typing and research errors and especially the big names out there with the biggest audience, the largest impact.
For the record, it is Down syndrome (not Down's Syndrome or Down Syndrome). The National Down Syndrome Society (NDSS) has published on their site:
 People with Down syndrome should always be referred to as people first. Instead of "a Down syndrome child," it should be "a child with Down syndrome." Also avoid "Down's child" and describing the condition as "Down's," as in, "He has Down's.
As we see more and more of the real world that is around us, we take off the masks and can reveal kindness and honesty. Love seeing the Down syndrome girl (not sure of her age, but guessing a teenager); the children with doubts; the simple moments all of us women have stood in front of a mirror and questioned our beauty. It's not always terribly important if it's a man or woman who sings the song, but rather that the tune plays.
Recent Posts
by nomorenicegirl
Most Popular
We asked our bloggers to craft some recipes from the different Success® Rice flavors and tell us about it. Check out their ideas and you could win a $100 Visa gift card!
Read more
Lean Pockets have no artificial flavors, a good source of protein & have 100% real cheese. Read our bloggers posts where they will tell you their guilt free experiences with Lean Pockets. Plus get a chance to win $100!
Read more