Women Playing the NBA?
By
Sarah
on December 07, 2009
BlogHer Original Post
Last week David Stern, the commissioner of the NBA told Sports Illustrated that a woman playing in the NBA is "well within the range of possibility".
I am not sure how I feel about this. Of course my first reactions was Woo Hoo! Women in the NBA! But then I had to take a step back. What would happen to the WNBA if women started playing in the NBA? If the NBA took the very best female players then it changes everything.
Right now the NBA is the men's league and the WNBA is the women's basketball league. If the NBA takes the best women basketball players then the NBA becomes the A-League and the WNBA becomes the B-League.
That doesn't seem fair.
Or right.
My reservations of course have nothing to do with me thinking women couldn't play with the big boys.
Sadly, LeBron James has come out and and said that he disagrees with Stern. In a way that I find a little insulting. James said "I love all sports... I love watching the girls, especially in the Olympics. They're wonderful in the WNBA. They're great. It's a lot of great players. But 10 years, that's pushing it. I think that's pushing it."
I'm not sure what Lebron thinks is going to happen with women's evolution beyond 2019 but Los Angeles Laker's coach Phil Jackson seems to be thinking along those same lines. Janis Carr quotes him saying:
"It's just good sentiment... I'm sure he would like to see that (but) it's not going to happen. Unless you have a mutant, something happens, like that South African girl (runner) this summer where you don't know what that dominant gene is or what's going on... Women have made great strides, but I can't see that happening in 10 years."
Charming.
I'm not sure what bothers me the most, the pandering, the belittling or the fact that all of the posts I can find on the subject are about how LeBron James, David Stern and Phil Jackson feel about it. Has anyone asked a female ball player about it?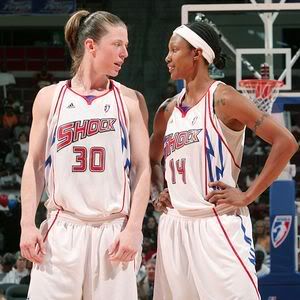 I tried, and none of them seemed to want to go on record about it. I am also waiting to hear back from the WNBA, but the National Basketball Association (which owns the WNBA) has had a rough week with the former referee saying that some of the calls were for entertainment value instead of by the rules on 60 Minutes. Then again, he was trying to sell his book and he was also in trouble with the mafia, so who knows. If I do end up hearing back from them I will let you know.
Edited to add: Former WNBA player Olympia Scott wrote about it on her blog here.
In the meantime, for more on this topic: you can go here:
BlogHer Contributing Editor, Sports and Fitness also writes at Sarah and the Goon Squad and Draft Day Suit.
ADD A COMMENT
Most Popular
We asked our bloggers to craft some recipes from the different Success® Rice flavors and tell us about it. Check out their ideas and you could win a $100 Visa gift card!
Read more
Lean Pockets have no artificial flavors, a good source of protein & have 100% real cheese. Read our bloggers posts where they will tell you their guilt free experiences with Lean Pockets. Plus get a chance to win $100!
Read more