World Diabetes Day 2008 is November 14th
Diabetes. It's a diagnosis that happens twice every 10 seconds. And it will happen to all of us, some time, if not yet, then soon. An aunt. A father. Worse - a child, our child. To mark World Diabetes Day on November 14th, let's take a look at the disease that's become the fourth leading cause of death worldwide. But the good news is that millions and millions of people live and thrive with diabetes.
First, let's review what diabetes is and how it manifests.
WHAT IS DIABETES?
[Source: Mayo Clinic]
People with diabetes have trouble converting food into energy that the body can absorb. This is because the body either does not produce or does not properly use insulin, the hormone that converts sugar, starches and other foods into a form of sugar called glucose -- and so the body begins to 'starve'. The cause of diabetes is unknown, although both family history and and individual health (especially obesity and lack of exercise) appear to play roles.
SHORT-TERM EFFECTS When insulin fails to regulate the normal fluctuations in glucose (that's another word for sugar), the result is either too little sugar ('low blood sugar' or hypoglycemia) or too much sugar ('high blood sugar' or hyperglycemia) absorbed by the body. Both are dangerous.
LONG-TERM RISKS Over the years, high blood glucose damages nerves and blood vessels, which can lead to complications such as heart disease and stroke, kidney disease, blindness, nerve problems, gum infections, and amputation. In fact, more than 65% of people with diabetes die from heart disease or stroke. With diabetes, heart attacks occur earlier in life and often result in death. By managing diabetes, high blood pressure and cholesterol, people with diabetes can reduce their risk.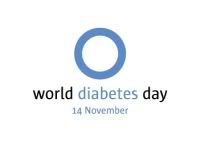 TYPES OF DIABETES
Pre-diabetes increases blood sugar to a level higher than normal, but not high enough to be classified as type 2 diabetes. Already, the long-term damage of diabetes — especially to the heart and circulatory system — may be starting. Prediabetes is usually treated by diet change, physical exercise and weight loss. Left untreated, prediabetes can progress to type 2 diabetes.
Type 2 diabetes is a the most common form of diabetes. It is a chronic condition where the body either (1) produces some insulin, but not enough to maintain normal blood sugar, or (2) is resistant to the effects of insulin. Left uncontrolled, Type 2 diabetes can be life-threatening. It was once known as adult-onset or noninsulin-dependent diabetes.
Treatment for type 2 diabetes requires a life-long commitment to blood sugar monitoring, healthy eating, regular exercise and, sometimes, diabetes medications or insulin therapy. The goal is to keep blood sugar levels as close to normal because tight control can reduce the risk of diabetes-related heart attacks and strokes by more than 50 percent.
Type 2 diabetes was once a condition confined to adults. But Type 2 diabetes in children is on the rise, fueled largely by the current obesity epidemic.
Type 1 diabetes is a chronic condition in which the pancreas produces little or no insulin. Although type 1 diabetes can develop at any age, it typically appears during childhood or adolescence. Type I diabetes was once known as juvenile diabetes or insulin-dependent diabetes.
Anyone with Type 1 diabetes needs insulin therapy to survive. This can mean insulin injections or the use of an insulin pump, which automatically dispenses insulin. A pump is the size of a cell phone and is worn outside the body. It's connected by a tube to an insulin reservoir under the skin in the abdomen.
Treatment for Type 1 diabetes requires a life-long commitment to monitoring blood sugar, taking insulin, maintaining a healthy weight, eating healthy foods and exercising regularly. The goal is to keep blood sugar levels as close to normal because tight control can reduce the risk of diabetes-related heart attacks and strokes by more than 50 percent.
Type 1 diabetes in children presents special challenges for parents and children alike but with proper treatment, children with Type 1 diabetes can live long, healthy lives.
Gestational diabetes causes high levels of blood sugar during pregnancy. It's a temporary condition although babies of mothers with gestational diabetes have a higher risk of obesity and Type 2 diabetes later in life.
SCARY FACTS & FIGURES
[Source: International Diabetes Foundation, more Facts & Figures]
Diabetes currently affects 246 million people worldwide and is expected to affect 380 million by 2025.
In 2007, the five countries with the largest numbers of people with diabetes are India (40.9 million), China (39.8 million), the United States (19.2 million), Russia (9.6 million) and Germany (7.4 million).
Each year a further 7 million people develop diabetes.
Each year 3.8 million deaths are attributable to diabetes.
MORE RESOURCES
COOL BANNERS & BUTTONS for WORLD DIABETES DAY World Diabetes Day
ARE YOU AT RISK FOR DIABETES? Take this fast Risk Test.
ARE DIABETICS PROTECTED BY THE AMERICANS WITH DISABILITIES ACT? Yes, thanks to amendments passed in 2008
CELEBRATING THE HOLIDAYS WITH DIABETICS IN THE FAMILY Holiday Helpline from dLife
COMING NEXT WEEK A closer look at one of the most vibrant communities of bloggers, the D-Bloggers.
YOUR STORIES Do you have a D-Blog or a story to tell about living with diabetes? Please introduce yourself with a comment or a link. I'll be exploring this important topic over the next few months.
BlogHer food editor Alanna Kellogg's cousin Diane is the youngest-diagnosed, longest-living diabetic in all of Canada. Diane's Grilled Vegetables in Foil are a favorite family recipe.
ADD A COMMENT
Recent Posts
by Alanna Kellogg
We asked our bloggers to craft some recipes from the different Success® Rice flavors and tell us about it. Check out their ideas and you could win a $100 Visa gift card!
Read more
Lean Pockets have no artificial flavors, a good source of protein & have 100% real cheese. Read our bloggers posts where they will tell you their guilt free experiences with Lean Pockets. Plus get a chance to win $100!
Read more