The Write Stuff: The Importance of a Writing Space
The Write Stuff is a monthly feature about writing. The first Wednesday of each month I'll write on a topic about writing, include some links for further information, and add some interactive stuff like writing prompts. I'll be working on them as well and will post a follow up at the end of the month. Visit Circo Luma and click The Write Stuff tab to read more posts.
* * *
The Writing Space
As I was researching this post, I was struck by how the writing spaces of even very successful writers are often simple. The above room belonged to Rudyard Kipling in his later years. Some famous writers worked in huts or shacks, others worked in their beds. In fact, even when the rest of their homes were opulent and rich, their writing spaces were often weren't.
Stephen King wrote in his (amazing) book On Writing that a writer should write with the door closed. For years, I took this to mean that in order to be a real writer, I needed an office with a door I could close.
And then I remembered: I'm not Stephen King.
A literal closed door doesn't work for me. I have eight younger brothers and sisters and had my first baby a year after I moved away from home. I'm used to a certain level of chaos, and I struggle to focus in an insular atmosphere, like an office with the door closed.
What works best for me is a space near the business of my house and family, but not right in the middle of it. I don't always get what I need, of course. For the last year, we lived in a 900 square-foot apartment (that's me, Kevin, our teenage son, and our eight-year-old daughter, two cats, a hamster, and a goldfish.) My writing desk was wedged in a corner of the living room, facing a wall. Our apartment was Grand Central Station with kids coming in and out all day long and family trying to find a spot just to be. I couldn't work there at all. I spent an entire year writing sitting up in my bed with a lap desk balanced on my knees.
Space for me to write was a requirement when we were looking for a house to rent. My space in our new house is in a room off the kitchen that we call the den. It isn't a family gathering spot, because we have a family room, too. My desk faces a window with a spectacular view. I can listen to my records or have Food Network on for company if I want to, and I can be part of the flow of my family without being pulled under by the current.
We're still moving in, but here's my new writing space:
I found the desk at Salvation Army for $20. I fell in love with its proportions and its spindly legs. The green chair to the right of my desk was the first thing I ever bought in Reno. One of my neighbors was having a garage sale and sold it to me for id="mce_marker"0. It rocks, which makes me happy. The yellow chair was at Savers for about id="mce_marker"0 as well. I love that the green vinyl and yellow vinyl look so great together. I got the lamp at another garage sale for $8. The little stand the TV is on was $9 at Goodwill. I'm in the middle of cleaning it up. The most expensive piece of furniture is also the least interesting: the bookshelf came from Target for $30.
See? You don't have to spend a lot of money to put together a space you can fall in love with.
To give you some perspective on where this space is, our dining room table is to the immediate right of the green chair. The den extends behind my desk and ends in a fire place. The kitchen is in the crook of the L formed by the den and dining room, so it's diagonal from my desk.
I just put the cork board squares on the side of my bookshelf the day before I took this picture, so they're still empty. My books are still in the garage, for the most part. The white case between my desk and the bookshelf is my sewing machine. We're still working on getting unpacked, but, it's coming together.
ASSIGNMENT ONE: Write about your perfect writing space. I'm not talking about a coffee shop or the library here. Use your imagination to design a space that is just yours. Is it totally isolated, or smack in the middle of things? How big is it? Use your five senses and think about what it smells like, what sounds you might hear when you're working there, how your chair feels, what your desk is made of, what do you have around you for inspiration? Once you have that written, make a list of the elements that you put into your perfect space and start to think about how you can implement some of them right away. Be as detailed as you can.
What Goes In A Writer's Space?
Here are what I consider the essentials: A comfortable place to sit, a desk, a computer, a printer, a variety of notebooks, good pens, plenty of light, a window if at all possible, opportunities for background noise when I need it, the ability for quiet when I need it, a shelf of books on craft and my favorite novels for inspiration, a bulletin board, a small white board.
I have written on a desk top computer and a regular-size laptop, but I've found that my little netbook that I bought for school is my favorite. It's compact and easy to write on wherever I want to be. Sometimes I want to write in bed at night, or on the couch in the family room. I also love how portable it is for writing outside of the house.
Most of the rest of the things on my list are pretty obvious. I need several notebooks and a jar of pens to be happy. I write what I'm going to work on for the day on a little white board. I tack up notes and pictures on my bulletin board.
ASSIGNMENT TWO: What do you need around you to do your best work? Does your current writing space have the essentials? What can you do this month to fill your writing space with the things that help you write? Make a list!
Famous Writing Spaces
I'm totally inspired by the writing spaces of my writing heroes.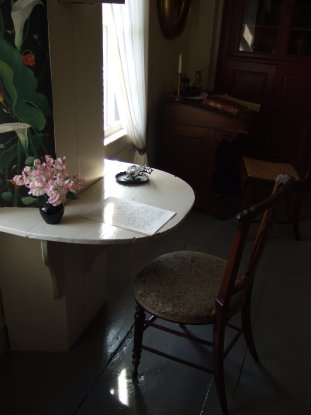 Louisa May Alcott wrote Little Women at this little half-circle desk in Orchard House.
Ernest Hemingway wrote standing up.
Stephen King in his office, clearly a long time ago based on that crazy computer!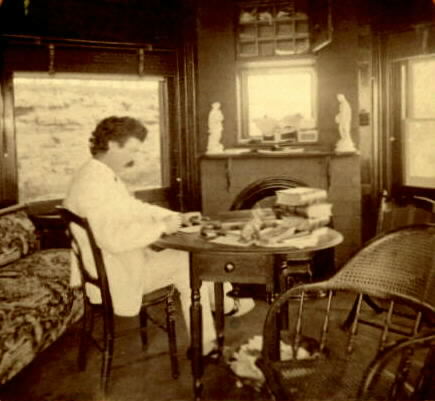 Here's Mark Twain writing in his octagon-shaped study.
Eudora Welty liked to write in bed. I picked up the taste for it in our tiny apartment, although I'm glad I have a non-bed space now.
Roald Dahl wrote in a big comfy chair next to his desk.
Don't let your space define you
If there is anything I learned from my year in cramped quarters, it's that it isn't the space that makes the writer. I did all of the revisions for my novel sitting in my bed against a backrest with my computer balanced on a id="mce_marker"0 Target lap desk across my knees.
Please don't decide to wait for the perfect writing space to manifest itself before you start to write. You can write at your kitchen table, on your sofa with half-a-dozen kids buzzing around you like bees, in your bed, at a desk wedged into a closet. Other writers have and so can you. Not only can you, but I really believe that writing in less-than-perfect conditions is one of those things that makes you stronger if it doesn't kill you.
I promise, it won't kill you.
Writing Outside of Home
The story goes that J.K. Rowling wrote her first Harry Potter book in a coffee shop while her baby daughter napped in her stroller. Maybe writing at home isn't your thing, either. It is mine, but necessity required me to find some writing spaces away from home. There were some days when I felt like if I didn't get out, I'd lose my mind.
I didn't think I'd like writing somewhere else, though. I thought there would be too much noise and too many distractions. I was right about some places. I couldn't do any of the Starbucks I tried. Or Barnes and Noble. I also didn't like writing at the library, although I think that if my local library had study rooms like the library I went to when I lived in Las Vegas, I would have liked that.
But, I found two coffee shops that felt good as occasional writing spaces. Both had spaces that felt a little more private and less like working in the middle of a rushing stream of caffeine seekers. One is across the street from my university, the other is near my home. Both have great iced tea.
ASSIGNMENT THREE: Make a list of places you'd like to try to write. Think outside of the coffee shop box! When you're done, go out and try some of them, then write about the experiences. What worked for you and what didn't about each place you tried?
Resources for further information:
Click here for a writing space Pinterest board I put together. I'll be adding to it over the month, so you might want to follow it if you're interested.
Here's an article about using Feng Shui in your writing space.
Some very famous author's had writing huts to work in.
The Guardian's series about writers' rooms is fascinating.
Discussion:
I'd really love to hear about your writing spaces! Write about them in the comments below, or link to a blog post about where you write.
* * *
Did you know that my first novel, a young-adult dystopian story called Viral Nation, is scheduled for release by Penguin Books on July 2, 2013? Click here to like my author Facebook page. Thank you so much for your support!
* * *
Come visit me at Circo Luma.
Comments
More Like This
Recent Posts
by Shaunta Grimes
Save time, money and space with the FoodSaver® Vacuum Sealing System! AND it keeps food fresh up to 5x longer! Read our bloggers' experiences with the FoodSaver® System and see why you should get one for your home. Plus get a chance to win $100 Visa gift card!
Read more