To say that I'm feeling centered would be an understatement. Last week I signed up for yoga at a local studio. New students get the first class free or can pay $25 for one week of unlimited yoga. I opted for unlimited yoga and took six yoga classes in seven days. My body was very sore for the first four days. On day five I noticed that I could bend without my abs aching – that I could reach with my arms without my limbs shaking. I feel so, so good.
I am reminded that when I feel centered in my body – when I feel strong mentally and physically – I want that feeling to reach into other aspects of my life. I get more focused at work. I find time for fun outside of work. I find balance.
That feeling ebbed over into the kitchen this week. I reconnected with my love of bulk cooking – my love of investing a few hours in the kitchen so that I have easy access to healthy, prepared whole foods all week.
Just a few hours in the kitchen the other morning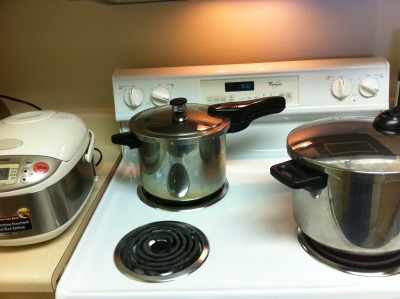 resulted in
10 cups of homemade vegetable broth (pressure cooker)

millet (rice cooker)

split pea soup (pressure cooker)

brown rice (rice cooker)

crackers – with the juice pulp + veggies, wheat berries, nuts and seeds (dehydrator)

chickpeas (pressure cooker)
I love having beans and grains readily accessible for meals.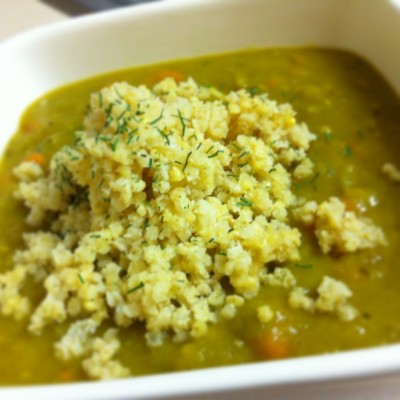 Split Pea Soup and Millet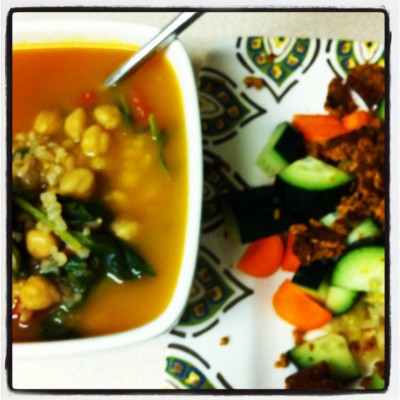 Chickpea and Brown Rice Soup
Let's talk about the chickpea soup. I simply poured two cups of vegetable broth in a large sauce pan. I added half a cup of cooked chickpeas and half a cup of brown rice. I diced half a tomato and added it to the pan, plus two handfuls of mixed greens and a healthy squirt of Sriracha. I enjoyed a hearty bowl of soup for lunch – done in about 10 minutes! That salad – sauerkraut, cucumber and carrot – was topped off with croutons. Those croutons were intended to be a raw bread.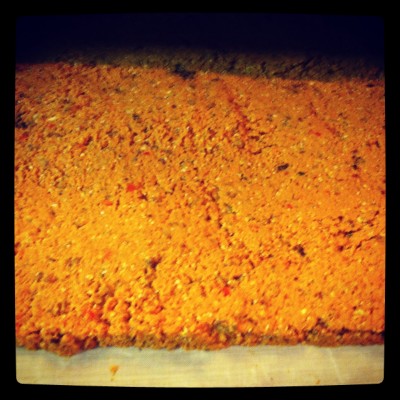 I loosely followed this recipe, using pulp from juicing. I added sun-dried tomatoes, wheat berries and added the sun-dried tomato soaking water to make the batter wetter, and spread it thick, but it turned into crackers, not bread.
Crumbled crackers = awesome croutons!
I've also been juicing and making smoothies: [click to continue…]