Yoga Workshop for Children ages 3 - 8 and their parents!
We are so happy to present an exciting yoga workshop on March 23, 2012! If you are visiting the Central California Coast or live here locally, this is one workshop not to be missed! Playful Planet along with Sukha Wellness Center collaborated to bring you award winning, certified children's yoga instructor and storyteller, Ahmed Fahmy to teach you and your child the Storyland Method of Yoga! Class will be held from 4pm to 5pm on Friday, March 23 at the Suhka Wellness Center in beautiful Avila Beach. You must call to reserve space for you and your child at (805) 801-8088. Class is just $5 per person.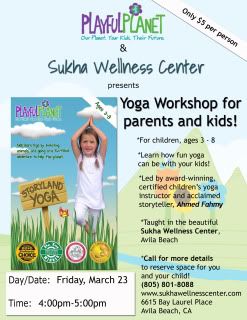 Storyland Yoga is a DVD from Playful Planet in which kids learn yoga by imitating animals and going on a fun-filled adventure to help the planet! It has won four different major awards and continues to delight children ages 3 -8.
We hope you can join us for this fantastic event!
ADD A COMMENT
Recent Posts
by playful karen
Most Popular
We asked our bloggers to craft some recipes from the different Success® Rice flavors and tell us about it. Check out their ideas and you could win a $100 Visa gift card!
Read more
Lean Pockets have no artificial flavors, a good source of protein & have 100% real cheese. Read our bloggers posts where they will tell you their guilt free experiences with Lean Pockets. Plus get a chance to win $100!
Read more