Zucchini Madness, the Final Chapter: Zucchini Bread, Cakes, Cupcakes, and Muffins
BlogHer Original Post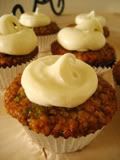 We've reached the final installment in our series about how to use the zucchini your garden is producing. Have you run out of zucchini yet? (That was a rhetorical question, silly.) So far I've given you ideas for Zucchini Carpaccio, Fried Zucchini Variations, and Lots of Variations of Zucchini Love. Some people would say we've been saving the best for last, because today it's the ever-popular zucchini bread, zucchini cakes, zucchini cupcakes, and zucchini muffins.
Zucchini bread can be sweet or savory, and both types are found on food blogs. Zucchini cakes and muffins are nearly always sweet, and many seem to be inspired by Chocolate and Zucchini, the blog. It's also clear that lots of zucchini baked goods featured on blogs inspire other variations, which are then featured on other blogs. The recipes seem to reproduce themselves nearly as fast as the zucchini does, but here a few that looked tasty. If you have an interesting recipe for zucchini bread, cake, muffins, or cupcakes, feel free to leave it in the comments.
Zucchini Bread
Katie at Little Spatula shares her recipe for The Best Zucchini Bread.
At Smitten Kitchen, Deb has some interesting additions to her Zucchini Bread.
There's another tasty-looking zucchini bread at Diane's Dishes.
Therapeutic Ramblings has Zucchini Bread with Blueberries.
At Alpineberry, there's a Zucchini Bread Recipe plus some testing of loaf pans.
Rachael at Fresh Approach Cooking has a lot of memories in her Good Earth Zucchini Bread.
There's a Savory Onion Zucchini Bread from Vanessa at What Geeks Eat.
Flora Fauna Fortuna gives us an interesting variation with Zucchini Bread with Basil and Golden Raisins.
Finally, at 101 Cooksbooks, Heidi shares her recipe for Special Zucchini Bread.
Zucchini Cakes
At Simply Recipes, Elise has a recipe for a spectacular looking Chocolate and Zucchini Cake.
Jennifer at the Domestic Goddess makes her own version of Chocolate and Zucchini Cake inspired by Elise.
Myriam at Once Upon a Tart does Zucchini Cake with Chocolate and Pistachios.
There's a Gluten Free, Casein Free Chocolate Zucchini Cake at GFCF and Not Starving.
I Like Cake! has Zucchini Lime Cake.
(I had to add this one when I saw it!) At Morsels and Musings, Anna has Zucchini Pistachio Spice Cake with Lime Frosting.
Zucchini Cupcakes and Muffins
First, possibly the most famous zucchini cupcakes on the internet are the Zucchini Cupcakes with Cream Cheese Frosting (in the picture) from Garrett at Vanilla Garlic.
Another tasty version of Zucchini Cupcakes with Cream Cheese Frosting can be found at Culinary in the Country.
Yet more Zucchini Cupcakes (with cream cheese frosting!) at Dine with Donna.
My Personal Cookbook has Zucchini Pistachio Cupcakes.
At Fat Free Vegan Kitchen, Susan has St. Patrick's Day Zucchini Muffins.
Finally, Rachel makes Chocolate Zucchini Muffins at Coconut and Lime.
Blogher Food Editor Kalyn Denny admits she hasn't made zucchini bread for years, but she recently made Roasted Baby Summer Squash with Feta and Thyme to (attempt to) use up her garden zucchini!
Trending Now
Recent Posts
by Kalyn Denny
Mom has a lot to check off her list this Summer, and Kellogg's cereal can help her get it done. How will you make the most of your Summer? Check out our blog posts as we share with you inspirational ideas for celebrating the moments of magic that will happen during this activity-filled time of year! PLUS enter for a chance to win as $100 Walmart gift card!
Read more
Green & Black's Organic Chocolate Reviews & Sweepstakes
We placed Green & Black's Organic Chocolate to the test! Check out these delicious chocolate recipes and recreate them using exceptional, fairtrade ingredients. Plus get a chance to win $100 cash equivalent and a chocolate prize pack.