Zucchini Madness Part Two: Fried Zucchini Variations
BlogHer Original Post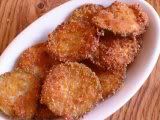 This is part two of a series on how to use up those garden zucchini that can take over your life this time of year. Previously I shared creative ideas for using raw zucchini, so take a look if you missed it. This time, let's see what interesting things food bloggers have come up with around the theme of fried zucchini. Get your cocktail sauce ready!
Zucchini is an international veggie, and in Hong Kong the Culinary Chase makes Zucchini Fritters.
The photo is from Blogarita's Kitchen which featured that yummy looking Fried Zucchini.
Oven Fried Zucchini Sticks are a lighter variation from The Cookbook Junkie in Pennsylvania.
Sara (or Piperita) is in Italy, so she names her creation Crocdhette di Zucchine, which is Zucchini Croquettes if you don't speak Italian.
Lisa, of Champaign Taste in Illinois, makes some delicious-looking Zucchini Pancakes.
Love and Olive Oil from Nashville, Tennessee, serves up Zucchini Panckes with Basil Chive Cream.
Still more yummy looking Zucchini Pancakes at Beyond Salmon in Boston.
At Just Hungry in Switzerland, Maki adds a different touch with Zucchini and Chickpea Pancakes.
Vegan Mama creates Pan Fried Zucchini and Tomato which she pairs with a roasted yellow bell pepper and mango sauce.
At Calendula and Concrete in Washington D.C. Christa says her Zucchini Fritters are a hit.
There are more delicious looking Zucchini Fritters at The Skinny Chef.
Cathryn of Limes and Lycopene from Sydney has two interesting additions to her version of Zucchini Fritters, both of which really appeal to me.
It's a two-for-one at I Like to Cook in Calgary, where Sara features zucchini with recipes for Bacon, Mozza, and Zucchini Waffles and Zucchini and Blue Cheese Cakes.
Finally, from a charming blog in Italy called Bleeding Espresso, a recipe for Fried Zucchini Slices, which comes with a caution that fried, high-fat dishes like this aren't meant to be eaten every day!
Is your mouth watering yet? Stay tuned for the last two installments of Zucchini Madness, which will be featuring Zucchini as a Vegetable, and last, but not least, Zucchini Bread and Cakes.
Blogher Food Editor Kalyn Denny has cooked a lot of zucchini, but she's never made fried zucchini of any type. This year the favorite zucchini recipe so far in Kalyn's Kitchen is Cheesy Zucchini with Garlic and Parsley.
Related Posts
Recent Posts
by Kalyn Denny
100% fruit in a portable, resealable pouch so parents can keep going knowing their kids can enjoy a healthy yet delicious snack whenever, wherever. See why our bloggers choose GoGo squeeZ and why their kids love the delicious taste!
Read more
Green & Black's Organic Chocolate Reviews & Sweepstakes
We placed Green & Black's Organic Chocolate to the test! Check out these delicious chocolate recipes and recreate them for the ones you love using exceptional, fairtrade ingredients. Plus get a chance to win $100 cash equivalent and a chocolate prize pack.